Alzheimer's and dementia caregivers looking for a way to celebrate Earth Day: Here are three science-backed reasons to spend some time outside — or bring the outdoors in.
If you have access to a garden — be it a community garden, local botanical gardens, try it out this Earth Day. Even just a nice park or public green space will do.  Research shows that activities including planting, crafting, cooking with, and even just seeing, appreciating, and smelling plants — flowers, herbs or the forest around you — can have therapeutic benefits for people living with dementia or other cognitive health issues.
Don't forget, green space is good for the brain. When it comes to dementia prevention, science supports spending time getting your blood flowing in the fresh air.
1. Dementia research says: Get into the garden
For centuries, the focus of horticulture — the science and art of growing fruits, vegetables, flowers, or ornamental plants — has been finding ways to change and improve plants: how humans can grow a bigger rose, a sweeter apple or a more pest resistant lemon, for instance. Somewhere along the way, it became recognized that not just the plant was being changed, but the person. That's where horticultural therapy — the practice of interacting with plants for a happier state of mind — came to the fore: a therapeutic practice focused on how the process of horticulture can be used to improve the individual. 
As a practice, horticultural therapy can benefit people with disabilities, injuries, diseases in many different settings, including hospitals, veteran centers and nursing homes, to name a few. Research suggests that horticultural therapy may help people with dementia as well, reducing apathy (a common symptom of the disease) and improving cognitive function over time.  
2. This Earth Day, go for a stroll in nature
The restorative and therapeutic power of nature comes in other forms, too. While researchers have long known that exercise — including walking — can boost mental health, a new study shows that older adults who stay attuned to the wonders of their surroundings during a walk may reap even more health benefits. The researchers found that awe walks —  the practice of intentionally shifting attention outward instead of inward when walking outside — produced greater increases in daily experiences of compassion, admiration and amusement than those in the control group.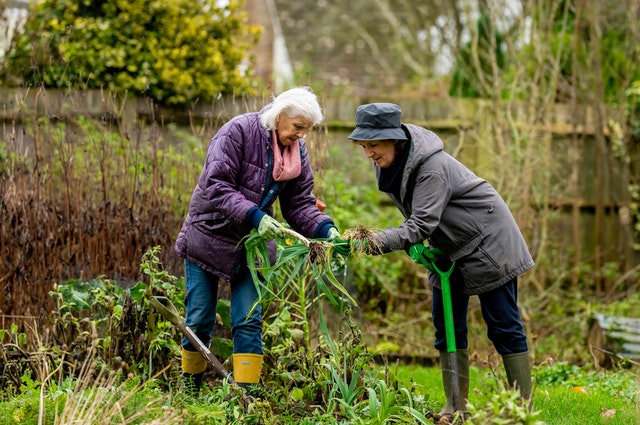 With encouragement from researchers who urged them to practice "feeling awe" during their walks, people reported experiencing greater senses of compassion and admiration for the world around them.
According to Virginia Sturm, an author of the study and associate professor of neurology at the University of California San Francisco, this simple reminder to occasionally shift our energy and attention outward instead of inward "can lead to significant improvements in emotional well-being."
According to the researchers, experiencing moments of awe are incredibly important for aging adults, who often experience higher levels of anxiety and sadness in their later years. Shifting attention to something vastly larger than themselves, like nature, may help put their problems into perspective and elicit a sense of connection to a larger community.
3. Dementia research backs bringing the outdoors in
If mobility issues — or simple bad weather — preclude spending time outside, try bringing nature indoors with potted plants or herbs — any living plant will do.
"Any time a person reconnects with nature, good feelings and healing can come," Joel Flagler, a registered horticultural therapist since 1984 and professor at Rutgers University, told Being Patient. "It's important to remember that the plant doesn't discriminate: The plant doesn't care if the person has dementia, or they're in a wheelchair, the plant is ready to respond to that person." 
Scents can trigger memory for people living with dementia — some scent experts are building whole therapeutic workshops for older adults with dementia around this very thing.
Having the responsibility of caring for another living being brings not only a sense of purpose to the individual, but also Flagler explained, as the plant starts to bloom and respond to the person's care, a sense of accomplishment sets in. 
"I will ask people: 'what does a plant need to survive?,'" Flagler said. "They'll answer: water, sunshine and love. Now we're bringing out their nurturing side, which is nice, because in a nursing facility or something of the sort, these individuals are always on the receiving end of care. Now we're making them a caretaker and we're bringing out their nurturing skills. Now we're talking about real empowerment." 
Whether you're indoors or outdoors this Earth Day — and every day — try to find time to smell the roses.