If you're worried about your cognitive health and wondering how to test yourself for Alzheimer's at home, first, you're not alone. Second, we want to make sure you have trust-worthy, science-backed information about whether online Alzheimer's tests and digital dementia screenings work, and how. Here's what you need to know.
Today, more than 55 million people are living with Alzheimer's disease globally. In the U.S., one in 10 people over the age of 65, and one in three people over the age of 85, will be affected by Alzheimer's. If you're concerned you're experiencing Alzheimer's early signs — like cognitive, thinking, or memory problems — you might be tempted to do a quick Google and take an Alzheimer's test by yourself at home — a digital test that asks questions or walks you through tasks to check your memory and cognitive abilities. 
Here's the thing, though: These tests and online screenings are not going to give you a definitive answer. As it stands, Alzheimer's is notoriously difficult to diagnose. It brings about a cognitive condition called dementia, and Alzheimer's dementia, specifically, has some hallmark cognitive symptoms, memory loss being perhaps one of the best known. However, Alzheimer's isn't the only cognitive disease associated with dementia. Others you might have heard of include Parkinson's, Frontotemporal Dementia, Vascular Dementia, Lewy Body Dementia… All of these have some overlapping symptoms, and also, some distinct symptoms, and they all require different types of treatment. That's why even healthcare professionals find so tricky to diagnose Alzheimer's based on the symptoms alone—much less on the answers to an online cognitive health quiz.
That said, there are a number of cognitive health tests and dementia symptoms screenings out there on the Internet, and what these digital tools can often do is give you a little more data about whether you should be concerned, and some baseline information to bring to your doctor to discuss next steps. So, if you're looking for ways to test yourself for Alzheimer's or for cognitive screenings you can take at home — for you or for a loved one — here's what you might come across in your search, and what you need to know about the options.
Yes, you can find Alzheimer's tests online — sort of.
If you come across a quiz online that bills itself as an Alzheimer's test, you'll see a series of questions or tasks that test memory and thinking, and it'll take you a few minutes. You can find these tests on websites from universities, hospital organizations, non-profit organizations, and other healthcare institutions. However, these aren't online Alzheimer's tests to give you a definitive diagnosis that can then unlock insurance coverage for treatments or get you into a dementia clinical trial — these are screening tools, meant to help guide you on whether you should take steps to seek an Alzheimer's diagnosis.
You might come across, for example, the UsAgainstAlzheimer's dementia screening online quiz. This simple, four-minute digital test, which you can take on your own at home (or take on behalf of a loved one) is one example of an exepert-vetted initial screening tool. It cannot definitively diagnose Alzheimer's or any other related dementia — but it does give you pointers about next steps to take depending your results, and it does help you connect with qualified health experts who can guide you on how to get a formal diagnosis.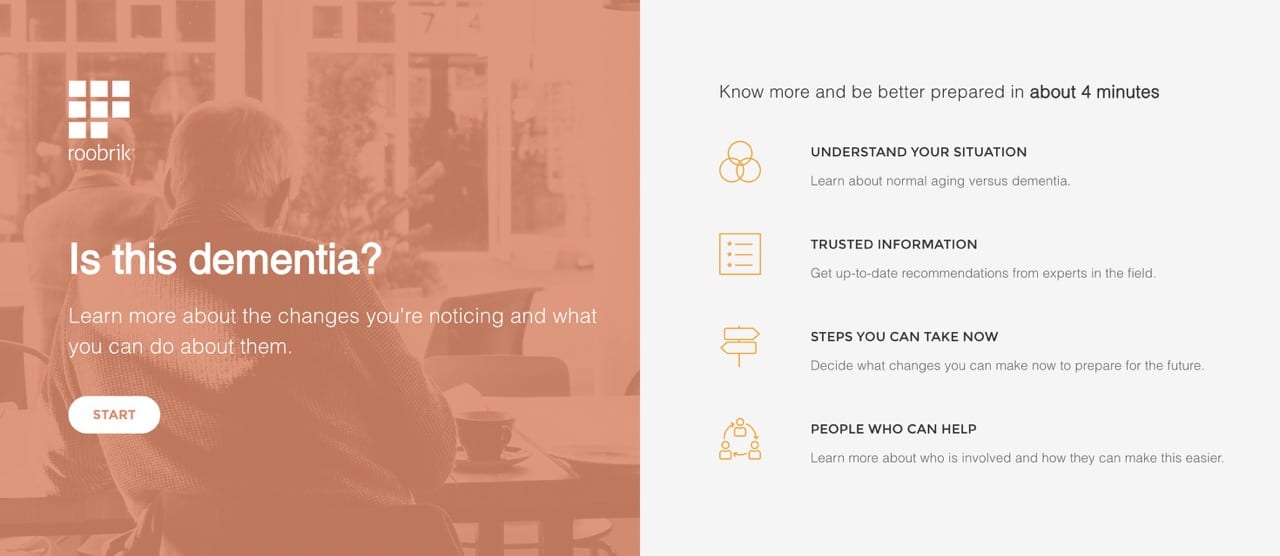 OK, OK, so an online Alzheimer's test can't give you an official diagnosis. How can you get an Alzheimer's diagnosis if not from a digital test/
Can you test for Alzheimer's at home? Also yes, sort of!
Today, Alzheimer's is diagnosed according to the presence of certain biomarkers — proteins like beta-amyloid — that build up in the brain, leading to the death of brain cells. that requires multiple tests carried out by a doctor to check for memory and thinking problems for a formal diagnosis.
The gold-standard methods for diagnosing Alzheimer's disease are lumbar punctures and PET brain scans. MRIs may also be part of the equation. But these methods can be uncomfortable — not to mention expensive and hard to access. Thus, there is a great deal of research being done into easier, more accessible diagnostics, like blood tests, retinal scans, and, yes, computerized tests.
Computerized cognitive tests are quicker to administer, and they can allow for more people to be screened for the disease.  Harnessing the power of AI, researchers are currently exploring new ways to diagnose the disease that might one day rival the accuracy of the existing methods.
For now, however, while it's not possible to get an official, definitive Alzheimer's diagnosis at home on the internet, you can get a head start. There are online screening tests that can indicate whether you should take the next step of going in and speaking with your doctor. And there are tests, like the Alzheimer's Foundation of America's Memory Screening Test, that can be taken from home, but that are virtually administered by a healthcare professional, who can help you interpret the results of your screening and recommend next steps — which may involve making an appointment for one of these more definitive screening methods.
At-home tests for Alzheimer's 
If you're looking into computerized Alzheimer's tests, there are some standards you might come across. Those include SAGE, M-CogScore, and Mini-Cog.
The Self-Administered Gerocognitive Exam, or SAGE test, is a

self-administered cognitive test

that works to identify early signs of cognitive, memory, and thinking problems. It typically takes about 15 minutes to complete, but you can take as long as you want and do it anywhere.  Developed by Dr. Douglas Scharre and his team at The Ohio State University Wexner Medical Center, for people concerned that they might have cognitive problems,

SAGE's

22-point

 

series of questions

tests a person's orientation (month, date, and year), language (verbal fluency and picture naming), reasoning or computation (abstraction and calculation), visuospatial (three-dimensional construction and clock-drawing), executive function (modified Trails B and problem-solving), and memory abilities.

Again, this test cannot actually diagnose Alzheimer's or other cognitive-related health conditions — just indicate whether a person's answers line up with the answers of people who have those conditions — so after completing a SAGE test, test subjects will want to take their results to a healthcare professional for help scoring results, interpret results, and providing guidance on next steps.
The Mini-Cog test is an online cognitive test that, in about three minutes' worth of questions, evaluates executive and cognitive function with a three-word recall and clock drawing task. You can take the Mini-Cog test in the comfort of your home, with the person administering it following the instructions on the Mini-Cog website. It does require an administrator — for example, a nurse, care manager, social worker, or doctor — to administer it. That said, the administrator doesn't need in-depth medical knowledge and can be trained on how to conduct the test within 10 minutes. Mini-Cog is designed to help determine whether or not you need to follow up with a doctor for further screening and diagnosis.

Should you take test yourself for Alzheimer's at home?
While you can't definitively diagnose Alzheimer's disease without a doctor and, for now, some hospital tests, we're not going to tell you the cognitive tests you can take online are worthless: As mentioned, the results might encourage a person to talk to a doctor and eventually undergo more formal screening. You may also need to ask a doctor for help in interpreting what exactly the online test results mean for you.
That said, not all online Alzheimer's tests are guaranteed to have been designed by neurologists or healthcare experts. If there's no human expert virtually administering the online test, the test can't perceive the nuance's of your individual's situation. And most importantly, these online tests can't look for the actual, physical biomarkers of disease in the brain.. Plus, with online quizzes, there are data privacy concerns, to boot. So if you're taking an online quiz, make sure it's on the website of a trusted source. And when you get your results, talk with a doctor about them. Trust your intuition abou your cognitive health in addition to whatever online test results say, and know that an online Alzheimer's test is just the beginning of an answer.
One day soon, there may well be plenty of credible, AI-powered Alzheimer's tests out there that leverage computers to diagnose this disease. In fact, the first generation of such Alzheimer's tests is already in use. However, this software is paired with human expertise from a licensed doctor. If you're worried about your brain health, talk to a doctor about the outcome.