By Tanner Jensen | June 3rd, 2020
A closer look at a one-patient stem-cell therapy experiment to treat Parkinson's.
For decades, research has been conducted on the potential of transplanting healthy cells into unhealthy brains as a means of improvement. A recent article by STAT on the journey of a patient named George Lopez suggests that that potential may soon become a reality.
Parkinson's disease is a neurodegenerative disease that eventually leads to tremors, stiffness and difficulty walking. While the causes are poorly understood, research has shown the immediate trigger to be a loss of midbrain neurons that produce dopamine. As of now, no known treatment or cure exists.
According to STAT reporter Sharon Begley in her article, "A Secret Experiment Revealed: In a medical first, doctors treat Parkinson's with a novel brain cell transplant," Lopez, a doctor in California, was diagnosed with Parkinson's in the early 2000s. By 2013, the disease unbearable for him, severely limiting his mobility and preventing him from enjoying everyday life.
Hoping to advance research for a cure, he contacted Dr. Kwang-Soo Kim of McLean Hospital, praising Kim's work on stem cell therapy for the disease — and offering to fund it.
Stem cells are the body's raw materials, the origin of all cells with specialized functions in the body, and when it comes to the brain, researchers have been focused on learning the full scope of their potential.
Studies in the '80s endeavored to transplant healthy brain cells from aborted fetuses to a person with Parkinson's disease, but the benefits of the transplants were unproven, and ethical questions were raised about the origin of the donor cells.
In 2019, researchers at the Wellcome-MRC Cambridge Stem Cell Institute at the University of Cambridge experimented with implanting the brain cells of older rats into the brains of younger rats, showing that the implanted cells began acting like youthful, healthy cells. 
Kim's research proposed a different approach: using the patient's own cells, rather than a donor's.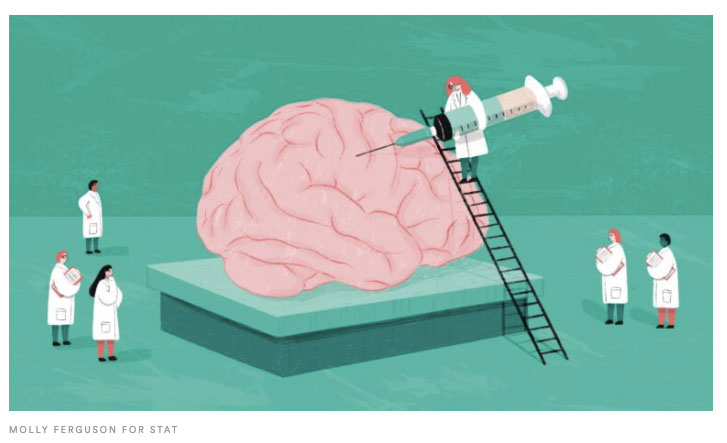 In 2009, Kim published a paper on reverting skin cells into stem cells. Once a stem cell, a bit of prodding is all it would take to transform the cells into any other cell in the body. Kim and colleagues suspected that converting stem cells into dopamine-producing brain cells and implanting them in a patient's brain might help to slow the progression of neurodegenerative diseases like Parkinson's. A similar approach was used in a 2017 study in which skin cells reverted to stem cells were the foundation for the growth of "micro-brains" researchers aimed to use to study and fight Alzheimer's disease.
Begley writes that Kim received permission from the FDA to perform a one-patient experiment on George Lopez in 2017. After the stem cell transplant, Lopez showed immediate improvement, with improved motor function and decreased pain. 
However, the team was hesitant to declare a success. 
Brain surgery alone can lead to temporary dopamine release, as can cell death and positive feelings about the possibility of a cure. It can also take months for implanted cells to form synapses and begin functioning, Begley reported.
Two days after the transplant, Lopez returned to pre-surgery status, no worse, but no better. Begley reports that since then, numerous brain scans indicate that several of the neurons implanted by Kim's team appear to have formed long-term connections and are churning out dopamine. Lopez's life has improved since then to some degree, regaining the ability to lace his shoes, and even to swim — things that would have been impossible before his condition.
"We didn't cure him of Parkinson's," Bob Carter, a neurosurgeon of the University of California, San Diego and a member of the team, told STAT. "I like to think we stabilized him."
The one-patient stem-cell therapy experiment will have to go through more extended clinical trials to prove its efficacy, as well as reduce the cost of the treatment. 
However, the experiment's results hold potential for research into other neurodegenerative diseases.
Read more in STAT.