By Simon Spichak, MSc | January 6th, 2022
Vaccines are one of the greatest medical advances in history. This strategy is now being applied to the treatment and prevention of Alzheimer's. We could be four years away from learning whether it works.

Stanford immunologist Mark Davis, PhD, once called vaccines "the single most life-saving medical innovation ever in the history of medicine." Vaccines are not only key for protecting against infectious diseases — they may even be able to prevent or treat Alzheimer's disease. 
Many new approaches for treating Alzheimer's utilize the passive immune system. Aduhelm, an anti-amyloid antibody-based drug was approved in June, and other similar therapeutics (gantenerumab, donanemab and lecanemab), are currently in Phase 3 clinical trials. These antibodies stimulate other immune cells to clear amyloid or tau proteins, but they don't "train" the immune system to clear these proteins themselves. 
Vaccines, on the other hand, can stimulate and train the immune system to clear these proteins on its own, generating active immunity. Thus far, there are at least nine vaccines in clinical trials for Alzheimer's and cognitive impairment — six of which are in Phase 2 or 2b trials, on the way to Phase 3. Since UB-311 has successfully completed its Phase 2 trials, it may be at least four more years until we know if it works.
The hope is that with better biomarkers and diagnostics, people at risk of Alzheimer's can be identified in an asymptomatic state five to 10 years earlier. At that stage, administering a vaccine, perhaps combined with other treatments, could prevent the onset of the disease or reduce its severity.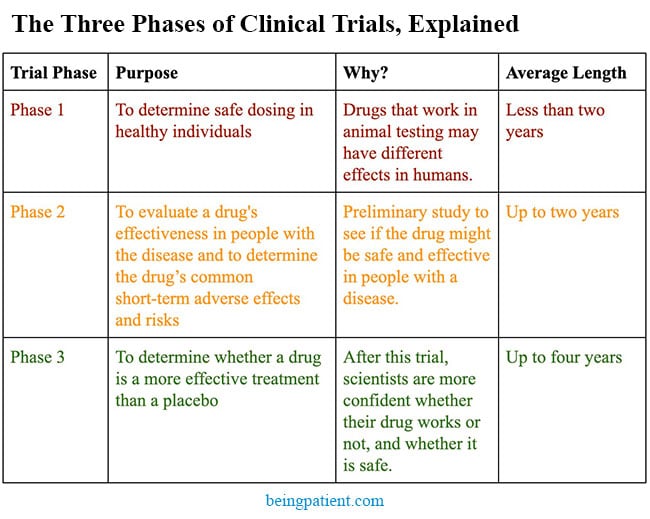 Beta-Amyloid Vaccines
Some of the vaccines in trials right now are designed to train the immune system to recognize beta-amyloid plaques, leading to the production of beta-amyloid antibodies.
UB-311 by Vaxxinity
Status: Phase 2B trials
Vaxxinity's UB-311 recently announced its Phase 2b trials, which will enroll 670 patients with early Alzheimer's disease to assess the effect of the effect on cognitive functioning over 78 weeks. In their Phase 3 trials to follow, they announced plans in 2020 to enroll 3,218 participants with mild cognitive impairment or Alzheimer's disease, who will receive a course of three vaccines and four boosters to test whether they can reduce the severity or prevent the development of Alzheimer's.
ABvac 40 by Araclon Biotech
Status: Phase 2 trials
Araclon Biotech's ABvac 40 is currently in its Phase 2 trials with final results expected in 2022. Currently, 135 participants with mild cognitive impairment or early Alzheimer's are enrolled, receiving a one-year course of immunization, receiving a dose of vaccine every four weeks. After the first dose, seven percent of participants experienced adverse side effects.
ACI-24 by AC Immune
Status: Phase 2 trials
AC Immune's ACI-24 began its Phase 2 trials for Alzheimer's in August of 2018. It is designed to stimulate plaque clearance without excess inflammation. The trial is testing the vaccine in individuals with mild Alzheimer's confirmed via a PET scan.   
ALZ-101 by ​​Alzinova AB
Status: Phase 1 trials
Alzinova AB's ALZ-101 announced that it is entering Phase 1 clinical trials in November 2021 and is recruiting participants with early Alzheimer's. 
Tau Vaccines
Other of these vaccines are designed to immunize against tau tangles. 
ACI-35.030 by AC Immune
Status: Phase 2 Trials
Another vaccine from AC Immune, ACI-35.030 focuses instead on tau proteins. It failed to show efficacy in a 2020 trial but a recent press release from the company suggested that another trial has shown it effective in generating an immune response.
AADvac1 by Axon Neuroscience
Status: Phase 2 Trials
AADvac1 recently completed its Phase 2 clinical trial, publishing its results in Nature Aging. The vaccine developed by Axon Neuroscience was found to be safe and showed signs that it may modulate the disease in people with early Alzheimer's. 
Immune System-Modulating Vaccines
Other experimental Alzheimer's vaccines don't inoculate against specific Alzheimer's proteins. Instead, they stimulate the immune system to clear these plaques and tangles. There is evidence that flu and pneumonia vaccinations may reduce the risk of Alzheimer's by as much as 30 percent. Stimulating the immune system later in life may prove protective in Alzheimer's. 
GV1001 by GemVax and KAEL Bio
Status: Phase 2 Trials
GV1001 was originally developed and tested to treat pancreatic cancer. Since the failure of these cancer trials, drug developers GemVax and KAEL Bio found that GV1001 induced anti-inflammatory effects in brain cells. It is currently entering Phase 2 trials in the US. 
Bacillus Calmette-Guerin
Status: Phase 2 Trials
Bacillus Calmette-Guerin was originally developed as a tuberculosis vaccine but evidence emerged that it may also lower the incidence of Alzheimer's. One study run at Massachusetts General Hospital is investigating the impact of this vaccine on participants with mild cognitive impairment or mild-to-moderate Alzheimer's. A Phase 2 trial is being run by Mindful Diagnostics and Therapeutics investigating the impact of this vaccine on beta-amyloid levels in the blood of healthy participants.
Protollin
Status: Phase 1 Trials
Developed by researchers at Brigham and Women's Hospital, Protollin is the first nasal vaccine to enter clinical trials for Alzheimer's. Protollin consists of bacterial proteins that are already safely administered along with other vaccines to stimulate the immune response. It works by stimulating immune cells so that they may clear amyloid and tau in the brain.     
While it may still be years until an Alzheimer's vaccine is approved, these trials show that these strategies are biologically feasible. 
All the Alzheimer's Vaccines in Clinical Trials Right Now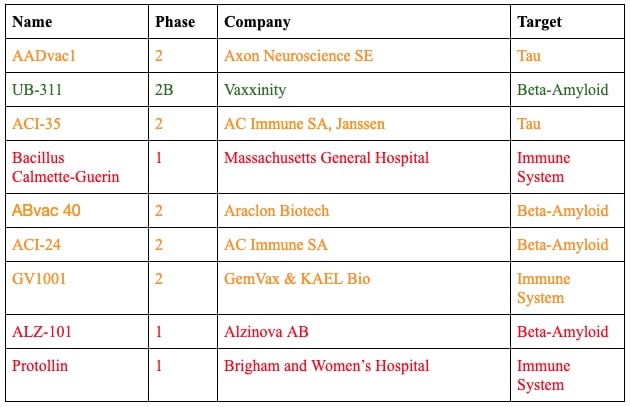 Updated 17 Jan. 2022: This article was updated to correct Vaxxinity's trial phase. It is in 2B; Phase 3 plans were announced in 2020, but it has yet to begin.