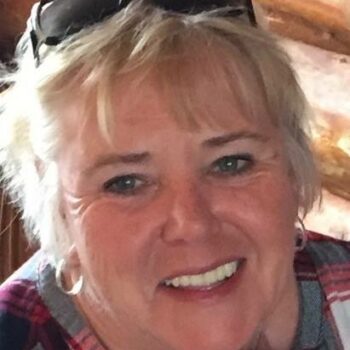 "He eventually admitted he was deliberately pushing my buttons, but said that no one would believe me anyway because of my dementia and if I told them the truth, it would make him look bad. For my own well-being, I decided that I couldn't go forward with the relationship."
February 1st, 2019
Christine Thelker lives in Canada and has early-onset vascular dementia. She runs the Facebook page Chrissy's Journey and is a member of Dementia Alliance International. 
While working as a nurse for dementia patients, I had a stroke. Now, I am living with early-onset vascular dementia after being diagnosed at 56 years old. My doctor tried offering recommendations regarding my dementia symptoms, but we had difficulty locating a specialist who could help me. Although I felt as if I was sent home with no resources to cope with my diagnosis, I have fought back hard against dementia. Dementia has taught me the importance of being open to new connections while staying strong and acknowledging what relationships are no longer healthy for me. I have also learned to embrace my diagnosis so that I can maintain my health and well-being.
Recently, I met someone and spent several months dating him, but I ended the relationship after I realized that it was not a healthy one. His own health issues, combined with my dementia, made the relationship challenging. It gets complicated when people don't fully understand dementia and it is hard for the person with dementia to walk someone through all of that. He'd also use my dementia against me to some degree. He'd often try to start an argument with me. When I reacted to the cruel things he said, he'd respond, "You're crazy, you don't remember anything." After initiating an argument, he'd call all of my friends and tell them my dementia was becoming worse. They were horrified because they knew that it was not my nature to behave the way he was describing. He eventually admitted he was deliberately pushing my buttons, but said that no one would believe me anyway because of my dementia and if I told them the truth, it would make him look bad. For my own well-being, I decided that I couldn't go forward with the relationship. It made me sad, but I have to look after what's best for me.
You have to be strong enough to say, "No, that isn't right," especially because those who have dementia are already vulnerable and struggle with their confidence. If you want to remain happy, not everyone can have access to you. Knowing that you are still capable and have worth is a really big part of staying strong after a dementia diagnosis.
I've realized that while I am no longer who I was before the diagnosis, I can still make new, healthy connections by working to help others with dementia. I began asking questions like: Who am I now? What do I do now? After being told I was no longer able to work, I spent a lot of time just 'being,' but one day, I thought to myself, "I am going to keep living." I started writing in a journal to empower myself. In addition, I started a Facebook page called Chrissy's Journey. People from all over the world have reached out to me and told me that my writing and advice have helped them and their loved ones. I have had the privilege of meeting some of these people face to face. I like who I am now. I love being able to provide hope to others and because of that, my diagnosis has become a huge gift.
Nevertheless, dementia has not been easy and I try to be honest about the internal struggles I go through every day so that I have a purpose and can raise awareness about this disease. I am a member of Dementia Alliance International and talk to people from around the globe through this work. We offer online support groups and once a month, we meet with our counterparts in Japan, China, the United Kingdom, etc. I am very involved with the support groups. We also speak at a lot of different conferences and do one-on-one support if people need it. We put together events and host fundraisers to help our members get to the conferences.
I do not separate myself from my dementia. I take dementia with me everywhere I go because it is who I am now. I had a conversation with God and told him that I can manage whatever I go through. Dementia has put me in the present. It has shown me life at its most basic level. I have gained more patience and understanding. There are things I do now, like connecting with people from around the world, that I never thought I would. I have become friends with my illness. I liken it to any relationship: It has its good days and bad days. I always used to worry about tomorrow, but now, I get to focus on my today, something that gives me freedom that I never had before.