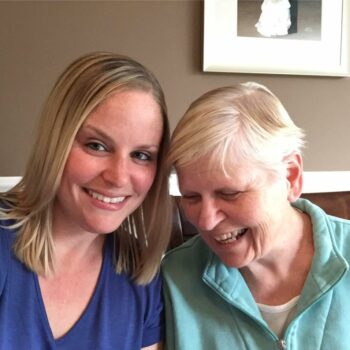 "Just because there is no treatment and no cure, it does not mean that you have to take this disease lying down. You can still fight for your life."
October 17th, 2017
Lauren Dykovitz is a 32-year-old caregiver to her mom Jerie, who was diagnosed with Alzheimer's seven years ago.
My mom was diagnosed with Alzheimer's disease when she was 62 years old. At the time, I was 25 and had just gotten engaged that same month. I should have been happy and excited about my upcoming wedding, but instead I felt lonely, angry, hopeless and lost. That first year brought many highs and lows, as did all of the other years that followed. A few years after my mom's diagnosis, I quit my job and became a part-time caregiver for her. After dealing with my mom's illness for over seven years now, I have learned a lot of valuable lessons about life, love and Alzheimer's.
I've learned that you have to stop feeling sorry for yourself. Channel that pity into strength, which will be much more beneficial to you as a caregiver. You also have to lower your expectations of your loved one. Focus on what your loved one can still do rather than what they can't do. Always give them positive affirmations when they are able to do something, no matter how small or how much they struggle. I've also learned that while you may not be an expert on Alzheimer's, you can become an expert on your loved one. Learn everything there is to know about them. If you become an expert on your loved one, you will have a far more positive experience as a caregiver.
Without a doubt, the most important thing that I have learned is that just because there is no treatment and no cure, it does not mean that you have to take this disease lying down. You can still fight for your life. After my mom was diagnosed, I felt like we had all been sentenced to life in prison. Fast forward seven years and I've realized that maybe it's not a life sentence, but a sentence to live your life. A chance to make the most out of your life and your time with your loved ones. A chance to make memories, no matter how big or how small, even if they will be forgotten. It is possible to create moments of joy for someone living with Alzheimer's disease. Engage them. Interact with them. Do fun activities with them. It is possible to improve their quality of life, even if you can't change the end result.
I'm not going to lie. It's hard. It's always going to be hard. It never gets any easier. There will be many days when you feel like giving up. Don't. Any joyful moment in their lives is a win against Alzheimer's. Any smile on their face is a sign that you are doing something right. Be patient. Be kind. Bring joy. Stay in the fight and we will win!
For more from Lauren, visit her blog at lifeloveandalzheimers.com or check out her book Learning to Weather the Storm: A Story of Life, Love and Alzheimer's.