Researchers are developing a high-tech dresser to offer support with dressing for people living with dementia.
Caregivers of Alzheimer's patients know that it isn't just memory that Alzheimer's erodes; it's basic functioning. Walking, cooking, bathing and even dressing are skills patients lose as the disease begins to take hold, and helping with these basic functions can take a lot out of caregivers.
But could a smart device help? What about a whole smart house? Researchers at NYU Rory Meyers College of Nursing, Arizona State University, and MGH Institute of Health Professions are applying typical "smart" device approaches to helping dementia patients in the hope that it would allow them to maintain independence for longer once diagnosed. In particular, they're testing how effective a smart dresser is for helping dementia patients get dressed every day.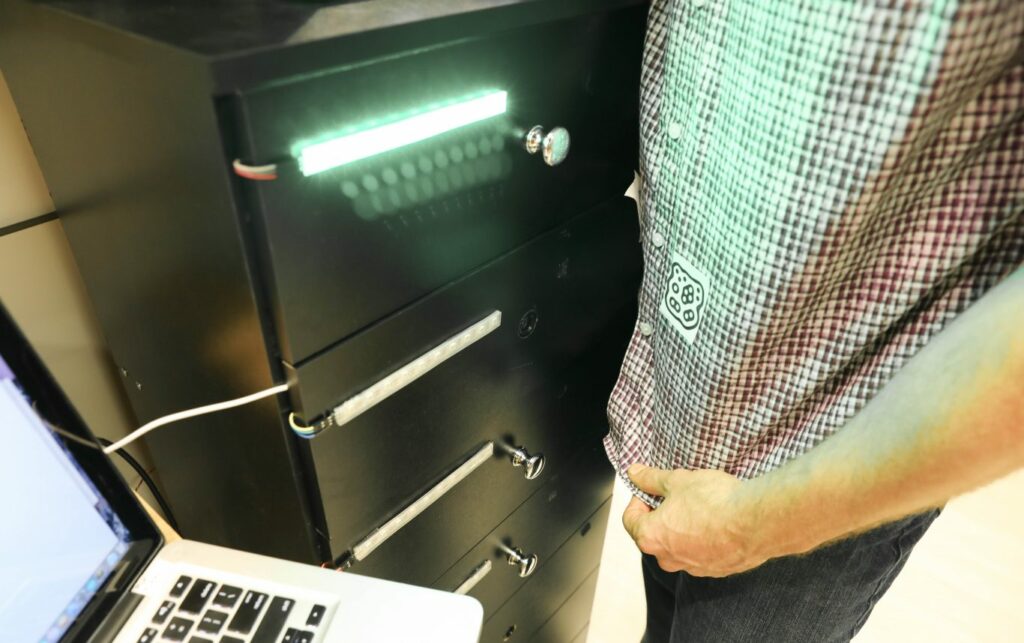 "Our goal is to provide assistance for people with dementia to help them age in place more gracefully, while ideally giving the caregiver a break as the person dresses—with the assurance that the system will alert them when the dressing process is completed or prompt them if intervention is needed," said Winslow Burleson, Ph.D., associate professor at NYU Rory Meyers College of Nursing, director of the NYU-X Lab and the study's lead author.
Here's how it works: A five-drawer dresser is equipped with a tablet, camera and motion sensor, and piece of clothing is placed in each drawer in the order following the person's dressing preference. The patient wears a bracelet sensor that monitors how stressed the patient is, relating to the frustration the dressing is causing. The caregiver starts the DRESS system from an app. Using sensors and motion recognition, the app calls out instructions in the caregivers voice and the drawer with the first piece of clothing lights up. If the person puts on the clothing correctly, they move on to the next piece; if not, the app calls out encouragement. If the sensor detects frustration, the caregiver is alerted.
"The intent of the DRESS prototype is to integrate typical routines and humanized interactions, promote normalcy and safety, and allow for customization to guide people with dementia through the dressing process," said Burleson.
In a research test, 11 people tried out the DRESS system, simulating common mix-ups that happen with dementia patients, like putting on a shirt inside out. The system correctly identified clothing and the orientation of that clothing in 384 out of 388 scenarios, but did not always catch when a participant had completed dressing, which researchers hope to improve by increasing the size of the barcodes on the clothing and repositioning participants to stay within viewing distance of the devices.
"With improvements identified by this study, the DRESS prototype has the potential to provide automated dressing support to assist people with dementia in maintaining their independence and privacy, while alleviating the burden on caregivers," said Burleson.
Studies show that helping their loved one get dressed is the most common activity caregivers assist dementia patients with, and it's the one that caregivers request the most information on. Adult children of dementia patients, especially, find the ordeal of helping their parent dress stressful, describing them as daily "battles."
When dementia patients get dressed for the day, studies show that they feel better and act more appropriately. And not only that—caregivers tended to treat dementia patients who are dressed with more dignity than when they didn't change out of their pajamas.
While the smart DRESS system hasn't been tested on people with dementia yet, it joins a growing class of assistive technology that aims to make life easier for both the patient and caregiver. And while a system like this is likely expensive—the study names $1,200 to $2,000 as a potential cost—subscription models may make in-home aids like this more affordable.
This study was published in the journal JMIR Medical Informatics.