By Phil Gutis | August 2nd, 2022
Writer and news reporter Phil Gutis brings his keen nose for news — and his experience living with early-onset Alzheimer's — to the halls of of the Alzheimer's Association's vast annual conference in San Diego.
SAN DIEGO – Day one of the Alzheimer's Association International Conference  has already come and gone. The exposition center here in the Gaslight District is crawling with more than 5,000 attendees with badges hanging from purple lanyards, masks and green rubber bracelets to show that they passed a health screen. Another 4,000 have registered virtually and are participating in sessions from their homes and offices. Ultimately, scientists from 90 countries are represented. 
The association says that 4,000 individual works are being presented through either workshops, plenary sessions or posters on display in a huge exhibit hall. I truly can't imagine how anyone could even absorb 10 percent of the information that's available. And maybe that's not the goal for any of the attendees.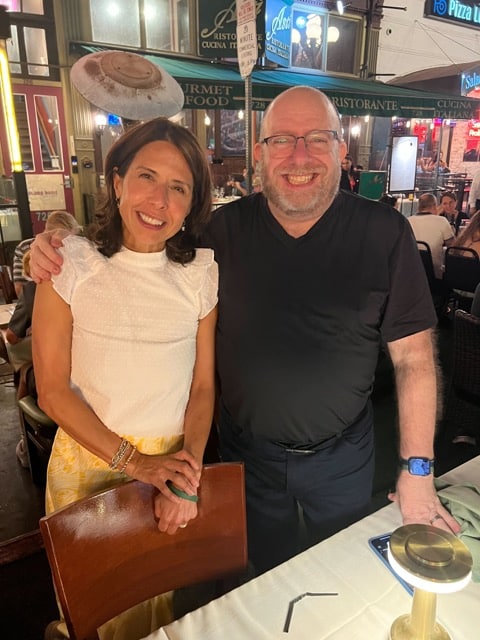 I chatted with one of the leading voices in the Alzheimer's world and asked what he looked forward to learning during the conference. With a wry smile, he acknowledged he doesn't attend any of the conference sessions.  Instead he takes advantage of all the key voices in Alzheimer's being present in one spot and schedules meeting after meeting after meeting.
From his perspective, AAIC is a massive networking event. And that's certainly true. I've been working with Being Patient for three or four years now and have actually never met Deborah Kan, founder and editor in chief.  AAIC brought us both to San Diego and, finally, we gave each a hug and had a wonderful chat over dinner. 
But exploration of the science of Alzheimer's and related dementias are supposed to be the stars of the conference. With that in mind, I wandered through one of the dozens of poster sessions yesterday and frankly left the exhibition hall with a massive headache.  So many of the posters were focused on seemingly narrow topics – "Single domain antibody-base non-invasive in vivo imaging of tau pathology" – was one that grabbed my attention but I certainly didn't even try to understand what was being presented.
Another that caught my attention was a poster on the clock drawing that is part of the MoCA test. Through my participation in a clinical trial, I've been asked to draw the face of the clock and place the hands at 11:10 many many times. (I've even screwed it up a few times, confusing the little hand and the big hand and where they should point.)
But when I engaged the presenter, I frankly couldn't understand a word of what she was saying. I kept looking at the many drawings of clock faces that illustrated her poster.  They were familiar — I could relate. "Cronbach's alpha, receiver operating characteristics analysis," however — not so much. 
Monday morning in San Diego started bright and early with a news briefing on research into how systemic racism is connected to poor memory and increased cognitive decline.
According to the association, Black Americans are about twice as likely and Hispanic/Latinos are about 1.5 times as likely to develop Alzheimer's or other dementias. The research presented at the conference begins to break down those numbers and establish the scientific basis for this overrepresentation.
One study of approximately 1,000 middle-aged adults (55 percent Latino, 23 percent black, 19 percent white) found that exposure to interpersonal and institutional racism was associated with lower memory scores. Experiences of structural racism were associated with lower episodic memory among all racial and ethnic groups.
Presenters at the news briefing included Rev. Miriam Burnett who works as the medical director of the African Methodist Episcopal Church International Health Commission and Dr. Adriana Perez, an assistant professor of nursing at the University of Pennsylvania and a member of the National Association of Hispanic Nurses.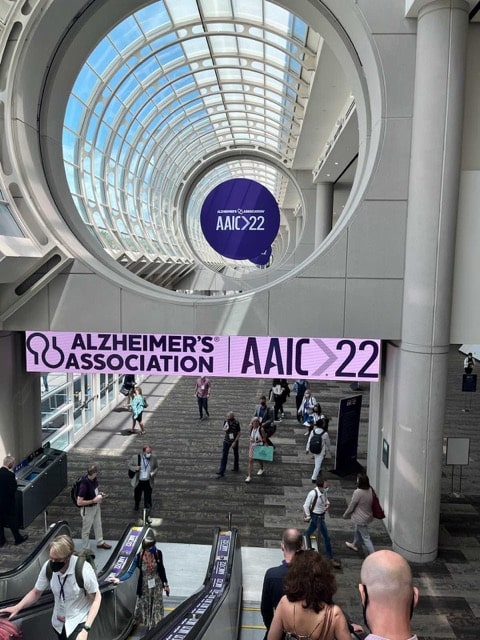 Another presenter, Dr. Jennifer Manly, a professor of neuropsychology at Columbia University, summed up the situation well: "Chronic exposure to racism and interpersonal discrimination among marginalized communities leads to stress that affects the body and likely contributes to the development of cognitive decline."
In some ways, the findings of the research struck me as a no-brainer. But, they also presented yet another huge horribly intractable problem to add to the science around dementia. I asked the panel how you can even begin to tackle a problem as overwhelming as societal racism on top of the many unknowables about the science of cognitive impairments.
The answers, essentially, were "One step a time."
One panelist spoke about her work to study access to early life schooling and its impact on later life cognitive function. Dr. Burnett spoke about the AME effort to overcome so-called food deserts where impoverished communities lack access to vegetables and other healthy food. 
Speaking of healthy food – and intractable problems – the association released another bit of research that found that eating large amounts of ultra-processed foods can significantly accelerate cognitive decline. 
A study released Monday morning found that people who consume the highest amount of ultra-processed foods have a 28% faster decline in global cognitive scores – including memory, verbal fluency, and executive function – compared to those with lower consumption.
What are those ultra-processed foods?  Well, they are the ones that contain large quantities of fats, sugar, salt, artificial flavors/colors and preservatives.
In other words, all the good stuff:  sodas, breakfast cereals, white bread, potato chips, and frozen foods, such as lasagna, pizza, ice cream, hamburgers, and fries.
Well, excuse me while I grab a Diet Coke and a mid-morning muffin snack.  I need the energy as I dive back into the conference to learn more about all progress being made to solve these seemingly intractable problems.
Phil Gutis is a former New York Times reporter and current Being Patient contributor who was diagnosed with early onset Alzheimer's. This article is part of his Phil's Journal series, chronicling his experience living with Alzheimer's and his participation in the aducanumab clinical trial.