By Phil Gutis | August 3rd, 2022
"She no longer remembered who I was, but our lifelong connection through LEGO bricks kept our  communication and engagement alive." –Loretta Veney
Loretta Veney received her first set of LEGOs from her mother Doris when she was five years old. Those little plastic bricks and the thousands that followed became an important tool for family communication, connecting mother and daughter throughout the years with shared projects.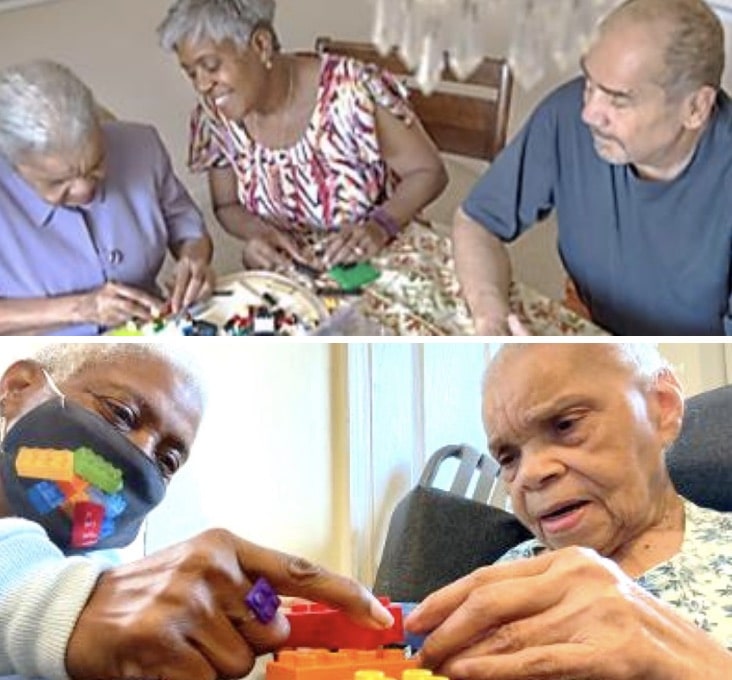 So it was only natural that, when Doris received an Alzheimer's diagnosis at age 77, Loretta turned to the LEGOs to help her mom express her feelings about the terrible news. As Loretta tells the story now, Doris reached into a bag of LEGOs on the day of diagnosis, pulled out one of the mini-figures – pre-made replicas of people – and removed its head.
"I'm afraid," she said, "that I'm going to lose my head."
Loretta and her mom took center stage on day two of the Alzheimer's Association International Conference in a presentation put together by Genentech, a San Francisco-based pharmaceutical company that is working on what could become a blockbuster early Alzheimer's drug.
***
At lunchtime, I found myself in a stream of people walking to a nearby hotel where the company was sponsoring a session that it called Overcoming Barriers in Alzheimer's Care Through Multidisciplinary Teams.
Frankly, the session sounded a bit dry, and I probably wouldn't have attended, but my good friend, Pam Montana, who served with me five years on the Association's Early Stage Advisory Group, was part of the panel, and I wanted to see Pam. She told me something about LEGOs in a hurried conversation the day before but I didn't understand what she meant.
What she meant turned out to be enormously powerful, as Loretta told the crowd about her mom's 16-year journey with Alzheimer's.  By 2014, Loretta said, "My mom no longer remembered who I was, but our lifelong connection through LEGO bricks kept our communication and engagement alive."
Loretta even showed a picture of her mom on the last day of her life.  Even though she no longer had the strength to connect the LEGOs, she is holding them, seemingly trying to tell her daughter how she felt.
Even before her mom passed six months ago, Loretta had started bringing her love of LEGOs and the power she believed they held to long-term centers, nursing homes, support groups and using them to help care partners and their loved ones living with dementia communicate their feelings.
***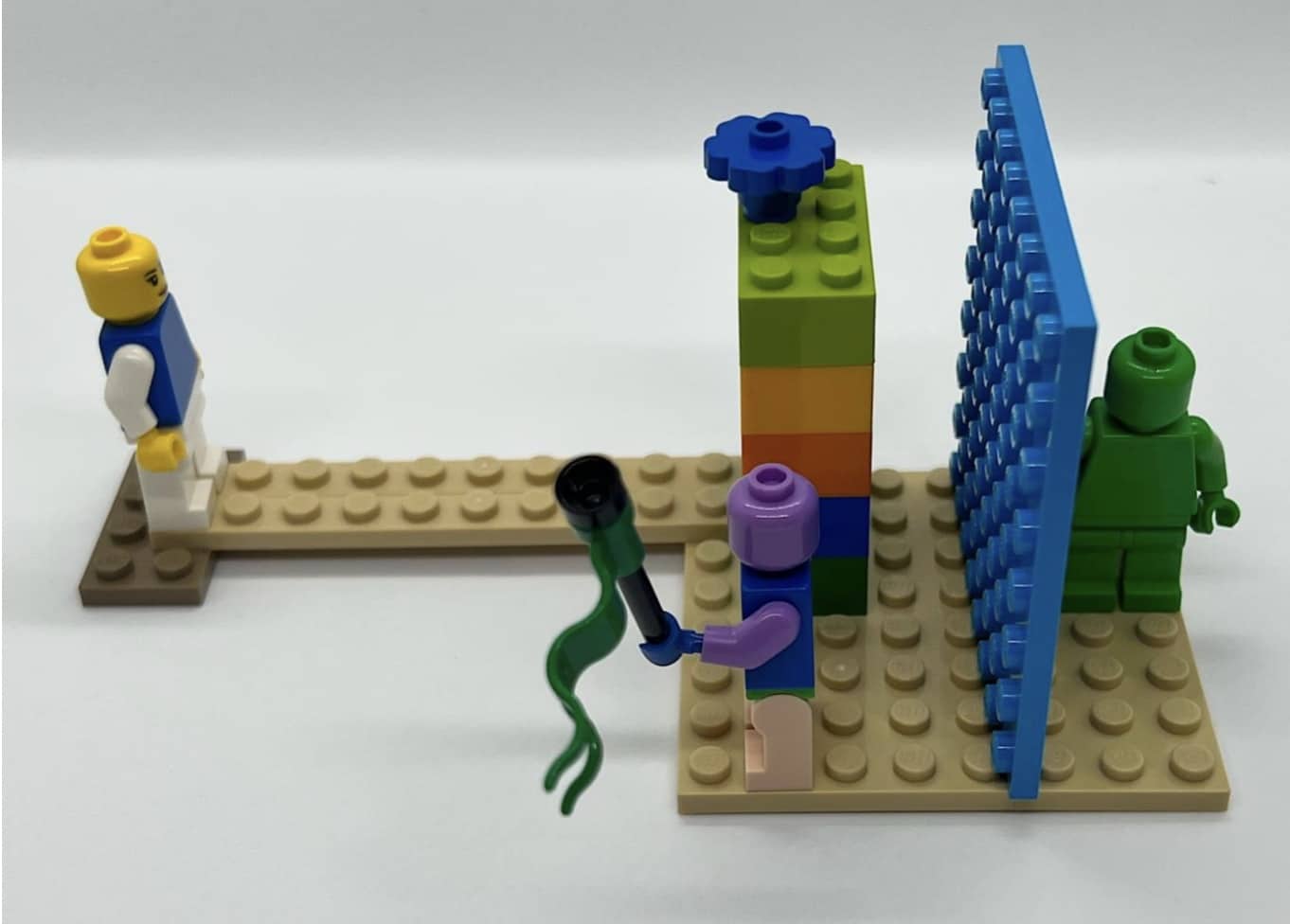 As part of the Genetech panel, Loretta had a presession with Pam, Carolyn Clevenger, an academic and nurse, and Judy Filippoff, an early stage advocate from the Alzheimer's Association of Northern California and Northern Nevada. Dr. Marwan Sabbagh, a professor of Neurology at Barrow Neurological Institute, who moderated the Genentech panel, also participated. We didn't get to see any of his LEGO creations, but Pam, Loretta, Carolyn and Filippoff showed off their builds and told us what they were trying to communicate.
When asked, for example, to represent her frustration with barriers to early diagnosis of an Alzheimer's disease, Pam had her two minifigures standing on their heads, representing how she felt doctors had their heads in the sand.
Carolyn's creation had a series of walls between the person seeking care and the medical professionals. Judy's build has a similar theme – a person surrounded by deep walls, blocking them from finding information.
Asked to demonstrate their hope and vision for the future of Alzheimer's disease, Carolyn represented a minifigure wearing a large golden crown and a line of others following it. Pam represented a huge heart with a celebratory banner.  Her minifigures were waving their arms, welcoming people like her to a future of treatment and cure.
***
I left the Genentech presentation jazzed by Loretta and her vision for working with people with Alzheimer's and caregivers.  I also left with a little bag of LEGOs, and the possibility of participating in a future Genentech panel as a person living with a cognitive disease.
I'm not the most artistic person on the planet, but I look forward to working with Loretta and hearing more about her mad methods for engaging people living with Alzheimer's. In fact, as we were talking after the panel, Loretta began to show me a book of photos from previous sessions she's done around the country.  
As she flipped through, I stopped her at one point, because I had recognized some friends who live near me in suburban Philadelphia, who had participated in one of Loretta's session at a nearby memory care facility called Artis Senior Living of Yardley.
Loretta said that Mike, who is living with early onset Alzheimer's, loved the session.  And being a good reporter, I reached out to Mike's wife Janis Donohue to confirm. Her take was that Mike enjoyed the concept and was engaged in talking about what to create.  The LEGOs, however, were too small for him to manipulate, leaving Janis a bit frustrated as she tried to build what was in Mike's mind.
***
AAIC is a remarkable gathering of people coming at the issue of Alzheimer's from every perspective possible.  I learned on Monday about a new registry launched by the Alzheimer's Association to collect long-term clinical and safety data from people treated with FDA-approved Alzheimer's therapies — and, an amazing discussion that I unfortunately missed on Sunday while en route, about how to change the language used by doctors when discussing dementia. (I personally despise the term, since I do not in any shape or form consider myself to be demented, the root word of dementia.)
I'll be writing more about those and other scientific research results in future pieces for Being Patient.  Stay tuned, friends.
Phil Gutis is a former New York Times reporter and current Being Patient contributor who was diagnosed with early onset Alzheimer's. This article is part of his Phil's Journal series, chronicling his experience living with Alzheimer's and his participation in the aducanumab clinical trial.