SAN DIEGO — I'm not a doctor. I'm not a scientist. I barely made it through my math and science classes in college. Actually, now that I think about it, I'm pretty sure that I had to drop out of a freshman-level statistics class because I was hopelessly lost.
So why the hell did I fly across the country to sit in on the Clinical Trials on Alzheimer's Disease (CTAD) conference here in San Diego? After all, friends warned me that the presentations at the conference were going to be heavy on science and probably challenging to follow.
But I put aside the warnings and, for an exhilarating few days, I sat in a huge ballroom, packed in among 1,600 scientists, statisticians, researchers, doctors, PhDs and other experts in Alzheimer's, listening to hour-after-hour of rapid-fire reviews of slides full of multisyllabic drug names and words like medians, differentials and p factors.
Why? Well, the trip was not just an opportunity to recapture a part of my professional past as a reporter. Instead it represented an exploration of my newest identity of a person living with a diagnosis of early onset Alzheimer's. I'm at the mild cognitive impairment phase of the disease and live with a daily terror that my cognitive abilities and memory will further deteriorate.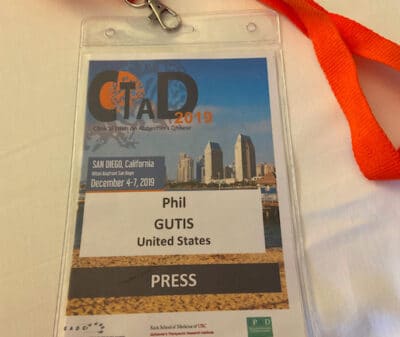 In fact, I was a patient in the controversial Biogen clinical trial that drew so much attention to the conference. So on Thursday morning as I watched Samantha Budd Haeberlein, a Biogen Vice President, spin out reams of data, I was more than a dispassionate observer. In fact, I was perhaps the most personally engaged person in the room. 
Before the presentation, I had learned that the basic message of the complicated slide deck was that study participants who had been on the highest doses of aducanumab for the longest time actually saw improvements in their cognitive test scores.
Pretty straightforward. Highest dose, longest time, best outcome.
But there's lots of complicated science behind that straightforward statement. And many other outlets are doing an excellent job dissecting the science. Quartz has a readable piece, or, if you prefer to get your news via podcast, check out this clear take from StatNews.
But for those of us who just want the facts, here we go: In March, Biogen and its partner Eisai stunned the Alzheimer's world when it killed its large phase 3 clinical trials of aducanumab. We were told that the drug — which had performed well in phase 1 and 2 trials — failed futility tests. In other words, the drug was not living up to expectations and was not working in combating Alzheimer's.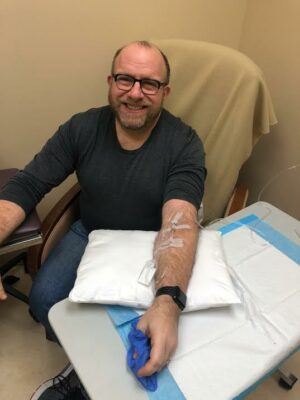 Then just a few weeks ago, Biogen and Eisai reversed themselves and said that further analysis of the data found that aducanumab was in fact actually working. The companies said the data now demonstrated that aducanumab removed the amyloid plaques that are believed to cause Alzheimer's and other dementias.
It wasn't until this week, however, that Biogen presented the data behind its assertion before a standing-only conference room packed with very skeptical scientists, financial analysts and reporters. Hundreds of other experts from around the world were watching a live webcast.
After the presentation, four experts offered their take on the data. Paul Aisen, Founding Director of the University of Southern California (USC) Alzheimer's Therapeutic Institute in San Diego, said that he was left with "an overall positive interpretation from the data" and therefore believed the study to represent a "truly major advance for the field."
Sharon Cohen offered perhaps the most passionate defense of the data. Cohen, a behavioral neurologist and Director of the Toronto Memory Program, said that what matters to her patients is not necessarily "what they score they receive on a memory test."
"The community at large fears Alzheimer's disease because of the loss of autonomy that comes with this disease," she said. "So slowing the loss of autonomy in these patients is key."
Asked if the study results should be seen as a "big deal," Cohen answered with an emphatic yes. "We're talking about people at the mild stage of the disease still being able to work, shop, travel, enjoy leisure activities for longer."
"Those of us who know this disease well know what it is like to lose yourself slice by slice," she continued. "So I'm looking at what people can do. If I don't have to give up driving for a year or two, yes, that is meaningful. If I can continue to work and support my family, yes, of course, that is meaningful."
I'm no longer working. I'm a volunteer reporter for Being Patient and am enjoying the opportunity to flex my journalistic wings. But high-stress activities like covering a major scientific conference and needing to write and file a story in minutes is not without its challenges.
In fact, after fighting with my computers and overcoming some technological hurdles that probably wouldn't have bothered me in the past, I found myself sitting in the crowded hotel lobby feeling overwhelmed and very much alone. I put out an SOS message to a friend who works for Eisai who was somewhere in the crowd.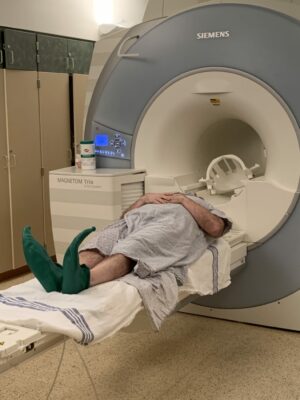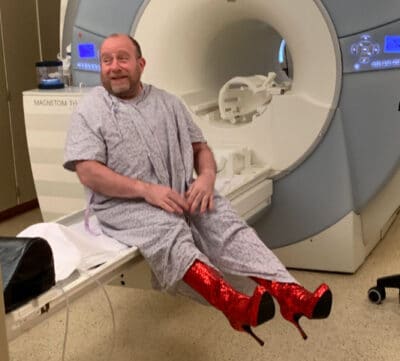 Before she had the opportunity to reply, I literally stumbled upon a friendly face. My neurologist, David Wolk, the co-director of the Memory Center at the University of Pennsylvania, was standing at a coffee dispenser. 
After a few jokes about small worlds, I asked if I could interview him about the Biogen news. It was so comforting to see a familiar face and to be able to engage with Dr. Wolk about the Biogen study. He was the principal investigator for the aducanumab trial at Penn.
His expert opinion is that aducanumab works. "How well it works is debatable," he said. "And in a world in which there tends to be a degree of conservatism about approving very expensive drugs that also have side effects, I think it is unlikely that it will be approved without additional data being required."
That's a good summary of the conference consensus. Biogen is already working on paperwork to offer patients who participated in the trials that were summarily canceled in the spring an opportunity to receive aducanumab at the highest doses, while the Food and Drug Administration (FDA) considers its application for approval to market the drug. 
So starting in the Spring of 2020, I will join thousands of other people around the world in offering up my arm for a monthly infusion of aducanumab. 
I'll participate in the new trial with new hope that aducanumab is indeed helping to slow my dementia-related decline. I'll take pleasure in knowing that I'm helping to make progress against this devastating disease. But if I'm smart, I'll keep reminding myself that this is still hugely experimental. Hopeful, yes, but still experimental.
Phil Gutis is a former New York Times reporter and current Being Patient contributor who was diagnosed with early onset Alzheimer's. This article is part of his Phil's Journal series, chronicling his experience living with Alzheimer's.