With life-or-death urgency, nursing homes, assisted living facilities and senior living communities across the U.S. are searching for scalable solutions to address the risk of coronavirus. For many of these locations, figuring out how family members can safely visit their loved ones in long-term care facilities is a distant second on the priority list.
At a senior living community in Roswell, Ga. — the Georgian Lakeside — it has been nine weeks since the home halted all walk-in visitors due to the pandemic, and three weeks in felt like three weeks too long for people who worried they might never see their parent or spouse again. To help families connect, the staff has rolled out an idea that seemed at once very obvious and also completely novel.
"They pulled in a truck and unpacked this huge clear wall that's framed with acrylic," Melanie Saglimbene, Social Network Director at the Georgian Lakeside, told Being Patient. The panel was a polycarbonate window through which family members could speak on cordless phones. Thrive Senior Living CEO Jeramy Ragsdale, who designed and hand-built the walls in his dad's woodshop, dubbed his prototypes "Clear Connection Panels."
There is no denying that the panels might evoke the same system long used for high-security prison visits. But it is easy to dismiss that grim comparison when considering how desperate families of long-term care residents have been to visit their loved ones during the pandemic, and how this system was nimble and low-touch enough that it could be rolled out, literally, within weeks of the initial social distancing measures.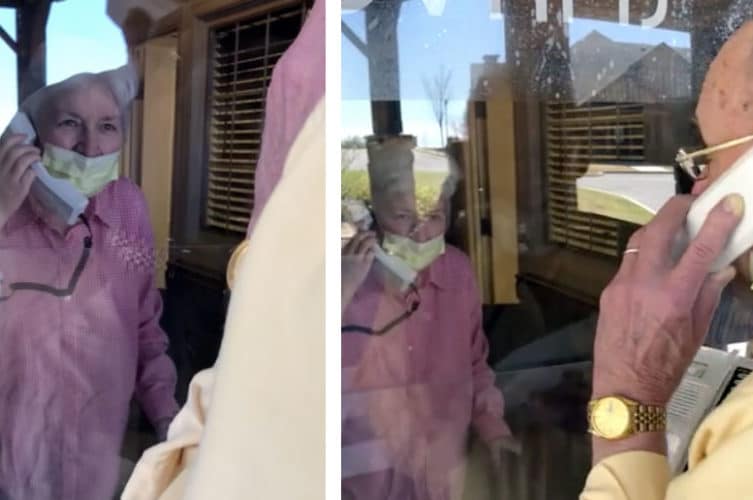 "We were this closed bubble — this closed community — and we were able to open our doors and allow families to see each other. [The panels] seemed so simple," Saglimbene said. "I wish I had thought of it ahead of time."
Ragsdale, who last year moved to integrate memory care units with broader senior living communities, told NBC 11 Alive, "I'm not the most handy person in the world, but my dad has a woodworking shop, so we jumped in there and ended up creating a polycarbonate glass panel that rolls around — we can move it in and out — and we custom-bulit them to fit inside the front doors of each one of our communities and create a venue where our residents and their families can visit in a safe way,"
Ragsdale then published instructions for building the Clear Connection panel on Thrive's website in hopes that other senior living facilities can help bring some joy to their residents as well:
"We've done our homework to bring people closer in a way that follows all health and safety regulations," the website reads. "We've included how-to instructions below for constructing your own Clear Connection in the hopes that you may bring your teams, families, and friends a little bit closer."
Seven days a week, the community allows family members to schedule visits using the wall. Because it usurps the main entrance, staff plan for these visits not to overlap with high-traffic times like shift changes, when staff are coming and going, getting their temperatures checked, washing their hands and getting settled into their shifts, according to Saglimbene.
She added that the visits are often 15 to 30 minutes long, and between visitors, the remote telephones are plugged in to be charged and the phones and glass are wiped down.
At the Roswell location, which is home to 82 residents including 29 memory care residents, Saglimbene estimates some 20 to 30 visits per week have been scheduled since the wall arrived.
"All families have their regular rhythm that they would visit," she said. "Some might be once a month, then there are those that might come three times a week."
The walls are now in place in Huntsville, Ala.; Charlotte, North Carolina; and at locations throughout Georgia, Virginia and Maryland.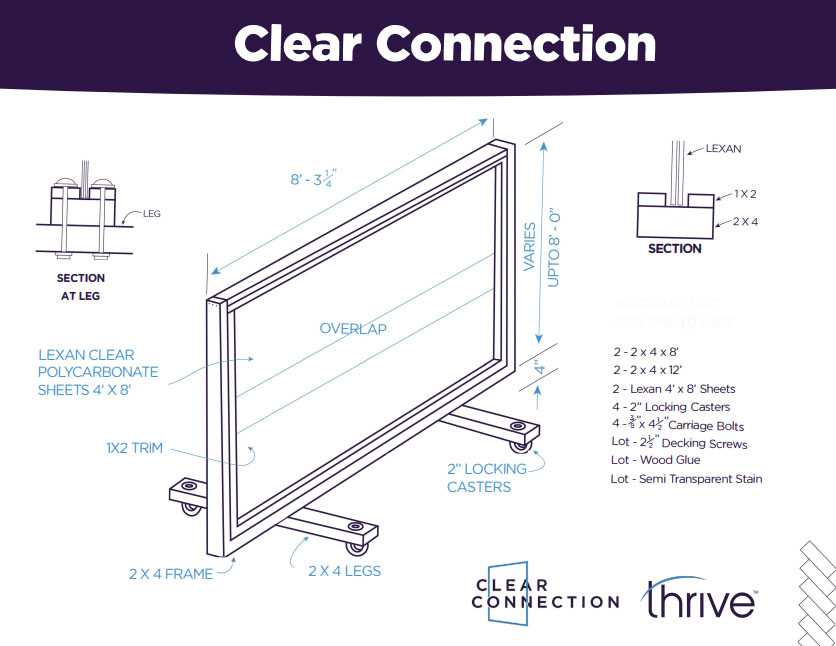 Meanwhile indoors at the Georgian Lakeside, Saglimbene keeps the social distancing version of her events schedule in play, though very loosely, with stations in the dining room of Zentangle, bubbles in the courtyard, puzzles, and books.
"Across the state, it's a little crazy as you can tell, but in house honestly, our home company Thrive has actually been very proactive in the pandemic response. As a general rule we laugh a lot, we play a lot with our residents engaging them, I think it's overall good in a situation that we wouldn't have chosen. And there's no sickness in the house so we're very blessed that way," she said.
Activities continue but with social distancing guidelines in mind, and residents are encouraged to invite their families to visit via the Clear Connection panels, according to Saglimbene.
"Even though we'd all love to hug reach out to hold our loved ones, people can lay their eyes on their loved one during this separation time, so there's an assurance there. They're hugging as they press their hands against the glass to each other. We've witnessed that, we've seen tears, we've heard laughter, we've heard off key singing as families are serenading residents," she said. "For our families, it's made all the difference."