Emma Heming Willis, the wife of Bruce Willis, is throwing down for frontotemporal dementia awareness, and sharing her caregiving journey with the world.
Most dementia caregivers don't apply for the job. They wake up one day in a new reality, where caregiving for a loved one with dementia is part of their life now. And this shift can be overwhelming for anyone, no matter their background, experience, resources or bandwidth.
On the one hand, this experience is universal. But for many families, it is deeply, deeply personal — so it takes courage to be open about a dementia diagnosis, or a caregiving experience. This is particularly true for high-profile, public figures. When actor Bruce Willis was recently diagnosed with frontotemporal dementia (FTD), wife, mother and entrepreneur Emma Heming Willis found her life upended. Rather than shrinking from the spotlight, she dove in.
"Hope was indeed rising in our FTD (frontotemporal dementia) community last night in New York," she posted on March 15, from an FTD awareness event with an advocacy and research organization called AFDT. "Thank you for welcoming me @theaftd to my new home. It's not the room I ever dreamed of being in but let me tell you, it's a room of fierce love and resilience."
Now that Willis is "in the room," she says in various Instagram posts and stories that she wants to make sure other caregivers, and other families on this journey, know they're not alone.
Frontotemporal dementia — also referred to as frontotemporal degeneration — refers to a group of disorders which bring behavioral changes, aphasia and symptoms. FTD is caused by progressive nerve cell loss in the brain's frontal or temporal lobes. Often, it tends to affect younger people — under the age of 60.
"It's not the room I ever dreamed of being
in but let me tell you, it's a room
of fierce love and resilience."
Emma Willis, a business owner and model, is the founder of Cocobaba, a skincare line for mothers. As she navigates life raising her two daughters, she's also been focusing more deeply on what it means to be an advocate of someone with FTD, she said. Posting often, on her Instagram feed and in Instagram stories, Willis gives the world snapshots into her life, with vulnerability and strength — and normalizing the grief she's experiencing along the way. 
"Today is my husband's birthday," she posted in an Instagram Reel. "I have started the day by crying. […] I just think it's important that you see all sides of this. I always get this message where people always tell me 'Oh, you're so strong;' 'I don't know how you do it.' I'm not given a choice. I wish I was." 
Willis adds, "Sometimes, in our lives, we have to put our big girl panties on and get to it, and that's what I'm doing. But, I do have times of sadness every day, grief every day. And, I'm really feeling it today."
Paparazzi PSA
Willis has been particularly vocal about the need for her husband to be able to live in the world safely. Calling out issues with paparazzi, Willis has been able to have a conversation about what it means to advocate for your loved one: "If you are someone that is looking out for someone with dementia, you know how difficult it is and how stressful it can be to get someone out into the world, just to navigate them safely— even just to get a cup of coffee," she said in a recent instagram post.
"I know this is your job," she said to paparazzi in a sort of PSA. "But, just keep your space. For the video people, please don't yell at my husband asking him how he's doing. The 'woo hooing-ing', the 'yippee-ki-yays': Just don't do it. Give him the space, so that his family, or whoever is with him, can get him from point A to point B." 
By taking that moment to have a hard conversation about what is not acceptable from videographers and photographers, Willis is advocating for Bruce and their own family — but she's also educating the general public about an increasingly common form of dementia that too few people understand.
Seeking out the experts
Also collaborating with experts in the space, like caregiving consultant Teepa Snow and Susan Dickinson, the CEO of the Association for Frontotemporal Degeneration (AFTD). Engaging them in live chats on her Instagram, Willis is learning things she herself needs to know as a caregiver — but she's also educating a growing group of upwards of 825,000 followers on the disease.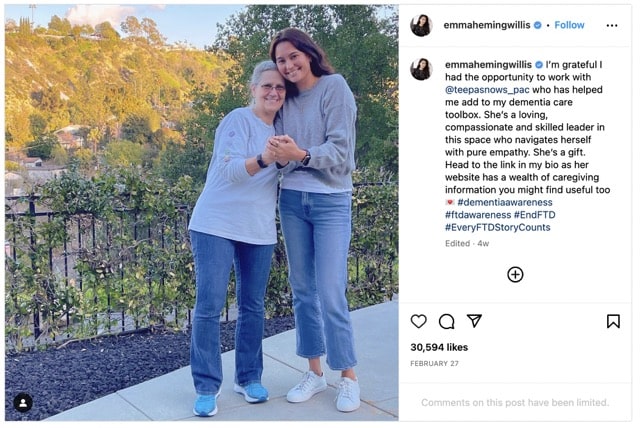 Willis has also shared how she's found community with others in the FTD advocacy space. Tuning in about her experience with different events, she's open with her followers about what she's learned — and what she still needs to know. 
Sharing a video of a recent hike, Willis shared that like her husband used to say, "I can't get out of my own way." Detailing why she took time for herself on that hike, she said: "I plan, organize, look after everyone and I still rarely make time for me. The kicker came from Evelyn a few days ago when she said, 'Mom, you need to get out and touch the grass.' Spoken like her father's child. I knew what she meant. I'm wound so tight that she sees it."
Willis takes that message to heart. "Today I made time to do something I used to love doing — a 30-minute hike. […] They are giving me the permission, almost begging me to make time for myself, and I need to 'Shhhh, listen,' and just go."
Taking time for oneself as a caregiver can be hard, but as Snow tells dementia caregivers, it's critical, for everyone involved.
Holding on to the positive
Although her social media presence is populated by daily updates and advice for experts, it's also full of joy. By sharing footage of a beautiful wedding vow renewal from just a couple years ago and how loved ones were able to come together for the special event, she's been able to share how important memories like this can be. 
In particular, Willis shares a particularly powerful post about her wedding anniversary this year. After mentioning the anniversary to a friend, she received flowers. Powerfully, she notes in the caption.
"It got me thinking about how hard these types of 'special occasions' can be on caregivers," she wrote. "When usually our person would acknowledge the event, now their changing brains just can't. And that is what it is. So, my point is this: If you know someone that is looking after someone else, don't ask what you can do, just do. This random act of kindness will honestly stay with me for a long time."
View this post on Instagram
Kindness in these little instances is so important to caregivers, she shared — just as sharing these moments can be profoundly powerful to others going through it. 
"If you know someone that is looking after someone else,
don't ask what you can do, just do. This random
act of kindness will honestly stay with me for a long time."
By giving us the gift of sharing her journey, Willis has already made a positive impact just by sharing her story. Every post has hundreds of comments, many with stories from other families rocked by the disease.
The work that she continues to do, being open in her journey, is a testament to the importance of community. By being "in the room" when it comes to FTD awareness, Willis isn't just caring for her own family — she's a living example of that fierce love and resilience to inspire all caregivers.
Katy Koop is a writer and theater artist based in Raleigh, NC.