Dozens of leading health advocacy organizations call on Congress to double funding for women's health research. It's a spend they say will save lives — and money.
New House and Senate resolutions cite data from a WHAM report on the sex discrepancy in health research, making the case that closing this gap has "enormous untapped potential for the U.S. economy."
This month, in a sprawling show of support, more than 25 leading health organizations signed on to a call that Congress double funding for women's health research through newly introduced Senate Resolution 637 and House Resolution 1129.
If women's health were not enough on its own to prompt Congress to support the proposal, the organizations said, then consider the health of the economy: Data from a report compiled by Women's Health Access Matters (WHAM) indicates that increasing funding of women's health research by $300 million could not only save lives and prevent illnesses; it could give a $13 billion boost to the United States economy.
Why does women's health research need more funding?
Despite that some of the most common diseases among Americans disproportionately affect women, the report (with analyses conducted by The RAND Corporation) found that only 12 percent of Alzheimer's research, 7 percent of rheumatoid arthritis research and 4.5 percent of coronary artery disease research are allocated to projects focused specifically on women. The report's findings now form the foundation of the Senate and House resolutions.
"For decades, women of all races, ethnicities, ages, and socioeconomic groups have been underrepresented in biomedical research," Rep. Jan Schakowsky (D-IL) said in a statement. Schakowsky joined Senator Tammy Duckworth (D-IL) to lead on introducing the resolutions, supported by 22 members of Congress. "I am grateful that biomedical research has made tremendous advances towards improving public health, but full representation of all women is the only way to guarantee that everyone has access to the best health care the world has to offer."
The resolutions are designed to address the gaping disparity between the percentage of dollars invested in general health research and the amount focused on women.
What does public health have to do with the health of the economy?
According to WHAM, women comprise the majority of the U.S. population and nearly half of the workforce. Women control 60 percent of personal wealth. And, women make 85 percent of consumer spending and healthcare decisions.
And yet, 80 percent of patients with autoimmune diseases are women, two thirds of people living with Alzheimer's are women, and women are 50 percent more likely to die the year following a heart attack than men are.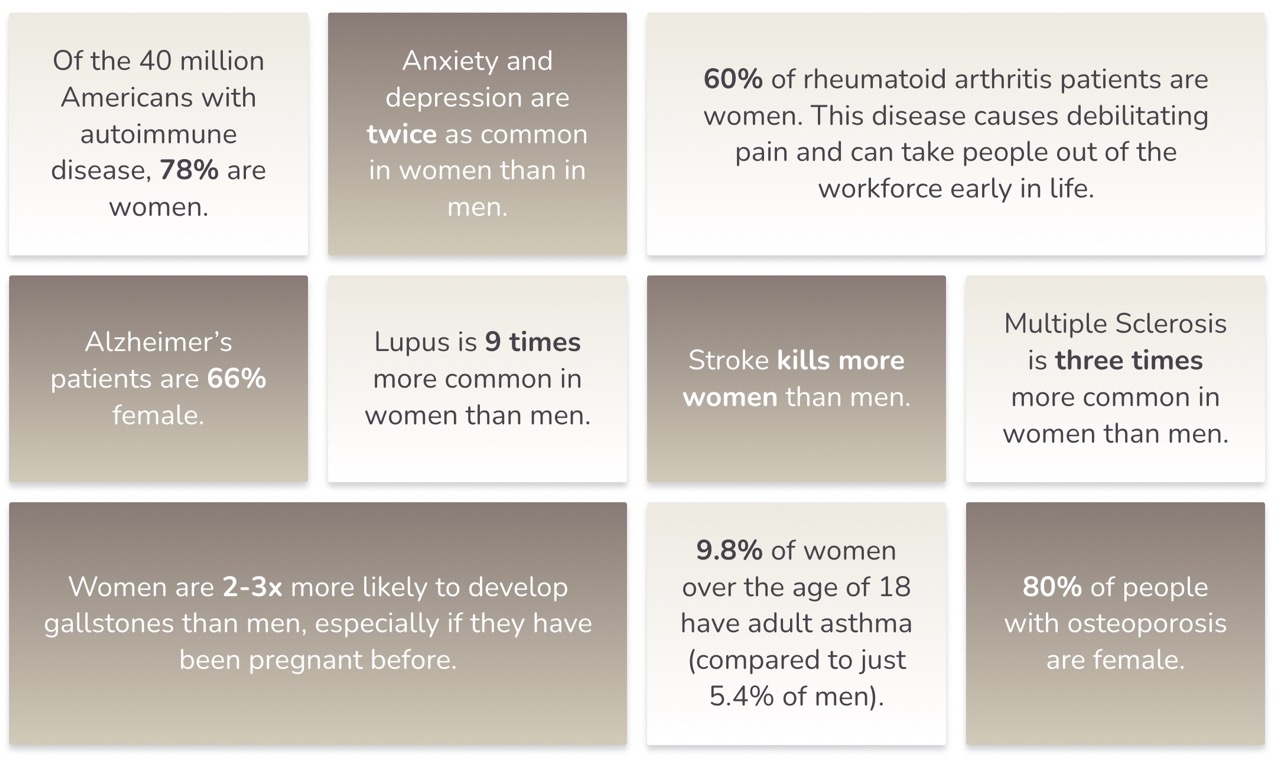 These disparities are glaring, but the medical and research communities still don't fully understand how sex as a biological variable plays into the risk and pathology of diseases like Alzheimer's. Research studies are still largely populated by white men. (This is also creating massive problems in understanding race as a variable for these diseases.)
In turn, WHAM found, women are forced to make critical health decisions based on research and analysis that stems from studies largely conducted with men — research that doesn't apply to them, leading to worse health outcomes, including keeping women out of the workforce for health-related reasons, and driving higher health costs.
WHAM founder and CEO Carolee Lee added that women's health is about much more than their own personal wellness: "It is an economic issue we can no longer afford to ignore," she said. "Women who are sick aren't consistent wage earners. Women who are caregivers — and most caregivers are women — can't maximize their earning potential. It's not too much to ask Congress to step up with this very small investment to address the glaring disparities in medical research that are devastating our workforce and our economy."
Adding $300 million for research across three disease areas — heart, Alzheimer's and rheumatoid arthritis research — focused specifically on women, the report indicates, could go a long way in addressing these issues, preventing illness and, in the process, generating over $13 billion in economic returns.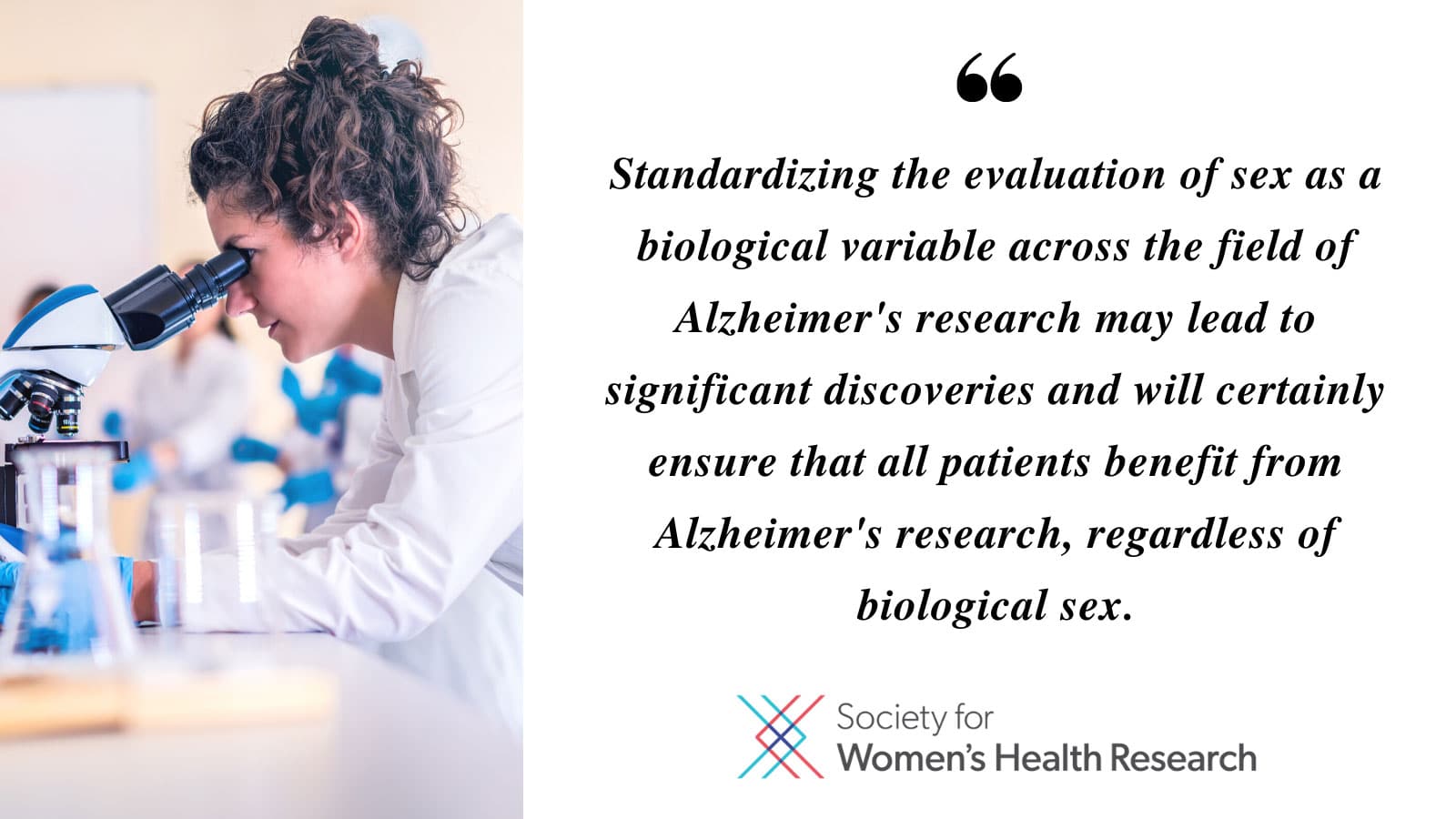 What's next for Senate Resolution 637 and House Resolution 1129?
According to representatives from various supporting organizations, people who wish to get involved in the effort to see these resolutions passed may ask their congressional representatives to sign on as co-sponsors and work to advance women's health research.
Here are the legislators already joining this resolution as original co-sponsors: Senators Sherrod Brown, Dick Durbin, Chris Van Hollen, Angus King, Amy Klobuchar, Ben Ray Lujan, Ed Markey, Jacky Rosen, Debbie Stabenow, and Elizabeth Warren; and Representatives Don Beyer, Jamaal Bowman, Yvette D. Clarke, Bonnie Watson Coleman, Judy Chu, Danny K. Davis, Anna Eshoo, Lois Frankel, Barbara Lee, Carolyn B. Maloney, and Kathy Manning, and Seth Moulton.
Endorsing organizations, coordinated by WHAM, include a wide range of private, academic and nonprofit groups committed to better health for all Americans, including:
American Heart Association
American Medical Women's Association
American Society for Pharmacology & Experimental Therapeutics
Arthritis Foundation
Association of Black Cardiologists
Atrium Health Wake Forest Baptist
Autoimmune Association
BrightFocus Foundation
Center for Research on Women and Gender
Connors Center for Women's Health and Gender Biology at Brigham and Women's Hospital
Endocrine Society
GO2 Foundation for Lung Cancer
Hadassah
Icahn School of Medicine at Mount Sinai
La Jolla Institute for Immunology
Magee-Womens Research Institute & Foundation
National Hispanic Medical Association
Northwell Health
Open Medicine Foundation
Society for Women's Health Research
Springboard Enterprises
UsAgainstAlzheimer's
Virginia Commonwealth University Institute for Women's Health
WomenHeart
Women in Bio
Women's Health Access Matters
Women's Health Innovation Coalition
Women's Heart Alliance
Download the WHAM report here.