By Genevieve Glass | April 22nd, 2021
A 2021 report highlights the dire economic impact of sex-based research in finding treatments — and a cure — for Alzheimer's disease. Meryl Comer shares insights with Being Patient during the NIH's 2021 Alzheimer's Research Summit.
Scientific breakthroughs about the biological differences in the brains of men and women are increasingly coming to the forefront. But research on just exactly how and why Alzheimer's and related dementias disproportionately impact women in particular is underfunded. Now, advocacy organizations are uniting to fix this problem.
"Investing in research that looks across a woman's lifespan to identify risk factors for Alzheimer's disease and related dementias can help women monitor early warning signs and potentially mitigate risk factors that can prevent or delay the onset of cognitive impairment," Carolee Lee of WHAM! and co-author Michelle M. Mielke at the Specialized Center for Research Excellence on Sex Differences at Mayo Clinic wrote in an op-ed for Being Patient. "This research has the potential to save millions of lives that would otherwise be lost to Alzheimer's, and to significantly reduce the hefty price tag that Alzheimer's disease and related dementias presents for patients, families, caregivers and our healthcare system."
Knowing this, Being Patient took particular interest in the final session of this year's NIH's Alzheimer's Research Summit moderated by Meryl Comer, the founding board member of UsAgainstAlzheimer's, along with RAND Corporation's Lori Frank. They have partnered with Women's Health Access Matters (WHAM!) to support the organization's latest report on the societal impact of women's health research in Alzheimer's disease and related dementias — and the dire need for increased funding.
Being Patient reporter Genevieve Glass spoke with Comer about their NIH session "Societal Impact of Increased Funding for Women's Health Research in AD/ADRD: The Women's Health Access Matters (WHAM!) Report," what to expect from the report, and how RAND, WHAM! and UsAgainstAlzheimer's are working to raise awareness about the need for gender parity in Alzheimer's.
Genevieve Glass of Being Patient: With regards to gender disparity, are women underrepresented in Alzheimer's trials?
Meryl Comer of WHAM!: Women are still underrepresented in research, which is hard to believe in 2021, starting way before the clinical trial phase. We know that every cell in the body has a sex and that two thirds of patients with Alzheimer's disease are women; but 66% of animals used in Alzheimer's research are male or of "unspecified gender." 
There are many different "on-ramps" for Alzheimer's, but still no "off-ramps." What we do know is that the latest research is showing that the "on-ramps" might be very different for men and women, leading to promising new gender-specific treatments. 
The WHAM! Report shows for the first time that funding research focused on women is not just good science, it's a good investment. WHAM! applauds and encourages efforts to address gender disparity in any medical research. We have come a long way, including in clinical trials for Alzheimer's disease, but there is still much more to do.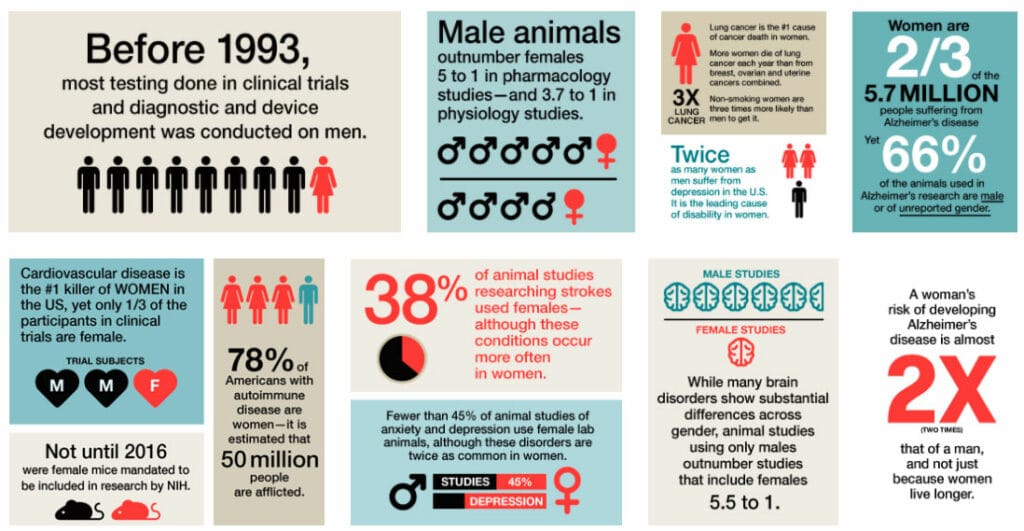 GG: Why is this? With nearly two thirds of the more 5 million+ Americans living with Alzheimer's being women, this is difficult to wrap my head around.
MC: In 2019, just 12% of the $2.4 billion NIH Alzheimer's budget went toward projects specifically focused on women. The WHAM! Report looks at this issue and asks, "What happens if we invest more in women's health research? What impact does that have for our economy and for our health?" 
WHAM! commissioned the RAND Corporation to study this impact. We found that investments focused on women bringing back greater returns for health and for our economy, doubling the NIH investment focused on women, adding $300 million, produces over $930 million in economic benefits, including quality of life improvements and reduced medical costs.  
For advocates, the WHAM! Report brings fresh data and a new economic lens that makes and broadens our case. Some of the most exciting breakthroughs in Alzheimer's are showing us what we should already know – that sex and gender-based research is critical to finding treatments and a cure for Alzheimer's. Thanks to the WHAM! report, we know that these investments will generate outsized economic impacts in addition to health breakthroughs.
GG: What do you think the Biden administration, research communities and other groups with agency can do this year or in the coming years to help relieve Alzheimer's burden on women and minorities?
MC: The WHAM! Report clearly shows the economic imperative for increasing funding for Alzheimer's research focused on women. Even with conservative assumptions, doubling the current $300 million in NIH Alzheimer's research focused on women brings $930 million to the economy through quality of life improvements and healthcare cost savings. It saves 4,000 years of life, and wipes out 6,500 years of Alzheimer's for patients and eliminates 3,600 years of nursing home care. 
This is a powerful call to action for the administration, congress, the healthcare industry and beyond to fund more sex and gender-focused research. Sex and gender research is underfunded, we need to accelerate investments to the researchers, who are frequently women, and the institutions that focus on sex and gender.  
This need for investment goes across disease areas. The first WHAM! report looks specifically at Alzheimer's, and we are releasing additional studies looking at autoimmune and heart disease.   
WHAM! encourages advocates, economists, scientists, business leaders, public health experts and policy makers alike to draw from and act upon the results of this report. This year and moving forward, we can drive meaningful change.
Learn more about sex as a biological variable in Alzheimer's and the WHAM! 2021 report — a rigorous, focused study showing the impact of accelerated sex- and gender-based health research through analyzing and quantifying costs and socioeconomic benefits — on their website.