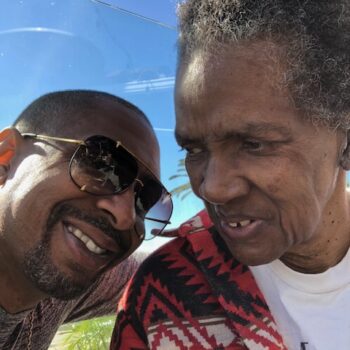 I'm drawing on far more patience and love than I ever knew I had and that has served me (and my mom) more than any medical or technical experience ever could.
January 4th, 2018
Donald Conley is a full-time caregiver to his mother, Paulette, who was diagnosed with Alzheimer's ten years ago.
My mother began demonstrating atypical behaviors about ten years ago, and she was later diagnosed with early onset dementia at age 63. Like so many that get this diagnosis, she was scared and did her best to combat the disease—and to hide symptoms from her loved ones. Before becoming her full-time caregiver, I would call to check in on her doctor's visits, and she would quickly reply that "Everything is okay." She had developed a default response when I asked her how she was doing because she didn't want me to worry about her. However, people in my mothers' tight-knit community—where she was a clerk supervisor for the US Postal Service and a staple in our neighborhood—began giving me reports about her behavior. I also noticed that she could not stay present during conversations. Initially, family friends doubled as caregivers for my mother, but I realized that no one was better equipped to handle my mother's needs and strong personality than myself. In 2013, I quit my job as a barber instructor and returned home to become her caregiver.
More than anything, I wanted to understand the disease and how it would manifest, though nothing could have prepared me for the new life I undertook. Dementia rapidly transformed my mother from a strong, proud woman to a scared mirror image of herself. My mother's home had become congested with items wall-to-wall, and other people had been taking care of her finances until I moved in. At times, I've struggled with the question of whether I should send my mother to a care home. Usually, these thoughts are fueled by the feeling that I lack a technical understanding about the disease; I worry that this lack of understanding limits my ability to care for my mother.
Despite these concerns, I realized I'm drawing on far more patience and love than I ever knew I had and that has served me (and my mom) more than any medical or technical experience ever could. Over the years, we've received support from a couple of organizations that provide services for my mother. I've noticed myself guiding the professionals on how to better care for her, and they are amazed by the techniques I've created to support her needs. Here is some advice I would give to other caregivers about communicating with a loved one with Alzheimer's, staying organized and seeking help:
Realize that your loved one will communicate differently than before. Certain actions mean certain things, and so on. Pay attention to patterns and what each action means so that you can better respond to your loved one in the future.
Try using "communication diversion" with your loved one. My mother often believes that someone is out to hurt or kill her. If your loved one is experiencing negative emotions, reassure him or her that everything is OK. If this technique doesn't work, try changing the subject. Bring up a previous topic that has evoked a positive response from your loved one so that you can "reset" the conversation and prevent your loved one from feeling upset.
Multitasking is one of the most important attributes a caregiver can have. Keep track of bathing, cleaning and your loved one's meals.
It is OK to ask for help. Try to locate caregiver support groups online. I joined one through a local university and have been very fortunate to have had their team's support.
My philosophy is the following: This woman protected me before I realized I needed protecting. In most cases, you will never be able to repay that deed. Being my mother's caregiver is my attempt.