Assistance dogs can help support families impacted by dementia. Here's why — and what you should consider before getting a trained dementia dog. 
In Dayton, Ohio, a small black and white dog named Diva is sleeping peacefully on the lap of 71-year-old Judy Kucharski. She smiles as she strokes the dog's fur and as her husband John looks on, he can't help but wonder if his wife of 47 years is remembering happier times.
The Kucharskis have always had dogs, but Diva, a Papillon breed, is a special canine caregiver. Trained by Karen Shirk, founder of 4 Paws for Ability in Xenia, Ohio, Diva provides comfort and assistance to Judy, who was diagnosed with Alzheimer's disease in 2010.
When my wife becomes agitated, I'll put Diva in her lap and ask her to get a tangle out of Diva's fur. The minute I place Diva in her lap, Judy calms down and she can sit for long periods of time, peacefully picking at the tangle.
Assistance dogs have long been used to help people with diabetes, autism, blindness, epilepsy, and post-traumatic stress disorder (PTSD). Yet now dogs are also being trained to provide companionship and help those with Alzheimer's disease.
According to Shirk, assistance dogs can help Alzheimer's patients and their families in a number of ways. A study published last year found the use of therapy dogs for people with Alzheimer's is on the rise, and credits the dogs with increasing well-being and socialization among those with Alzheimer's disease.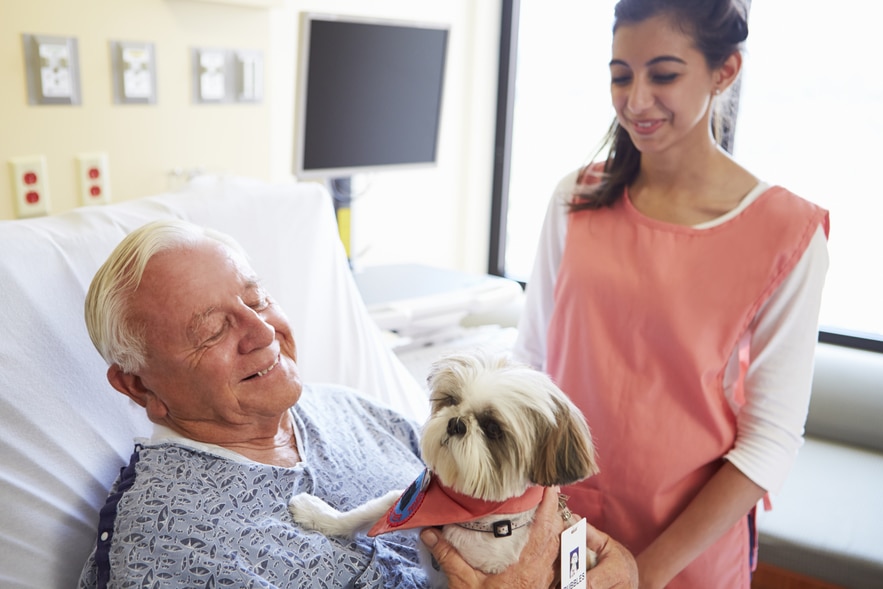 "The dogs we train to assist Alzheimer's patients are taught behavior interruption and help reduce anxiety," Shirk says. "Dementia patients often become agitated, but these dogs distract their owners and get them to refocus."
John says this technique has worked well with Diva and Judy.
"When my wife becomes agitated, I'll put Diva in her lap and ask her to get a tangle out of Diva's fur," John says. "The minute I place Diva in her lap, Judy calms down and she can sit for long periods of time, peacefully picking at the tangle."
No matter how combative Judy may become, John says she never engages in negative behavior with Diva or the couple's other three dogs.
"It's as if Diva is bringing back happy, familiar memories of the dogs Judy grew up with," John says.
Since it can take two years to train a dog, Shirk recommends families apply for a dog shortly after a loved one receives a dementia diagnosis. Although the estimated cost of training is between $40,000 and $60,000 for the organization, Shirk says families are charged $17,000 for a dementia assistance dog. Insurance does not cover the cost of the dog or any related costs of caring for the dog—which can amount to around $1,500 in the first year, according to the American Society for Prevention of Cruelty to Animals. Patients may be able to use flexible spending accounts (pre-tax dollars to pay for qualified medical expenses) to help pay for the cost of caring for the dog if they've qualified for disability.
"Most of our families engage in fundraising to pay for a dog and we can give them ideas on how to do this successfully," Shirk says.
Depending on the trainer, dementia assistance dogs can help patients in different ways. In Scotland, Dementia Dog, a collaborative effort between Alzheimer's Scotland, Dogs for the Disabled, Guide Dogs Scotland and the Glasgow School of Arts trains dogs to fetch a patient's medication, waking their owner up each morning, and walking on a duel lead. Dogs undergo a two-year training period before being placed with a patient.
Other trainers teach dementia assistance dogs to prevent their owner from leaving their home unaccompanied, support their owner with balance issues and ease the symptoms of sundown syndrome, a condition that occurs in the evening and causes patients to become agitated and confused.
Assistance Dogs Also Help the Caregivers
Thanks to Diva, Judy has been able to stay ambulatory for much longer than her doctor anticipated. She and John take Diva on a half-mile walk each day.
John credits Diva with not only helping his wife, but also with providing him comfort, as he serves as his wife's primary caregiver.
"Judy's illness is the toughest thing I've ever had to go through," John says. "If I didn't love her so much, I don't think I could do this."
Picking the Right Animal
If a trained dementia dog isn't the right option, a family dog or cat can also provide comfort to those with Alzheimer's.
Shriek says it's important the pet is a good match with the patient. She recommends getting a pet who is calm, has a good temperament, and has received some basic training.
Some Alzheimer's communities welcome animals in their facilities and have a resident assistance pet. Others partner with pet therapy organizations such as Alliance of Therapy Dogs that bring dogs to visit residents in health facilities on a regular basis.
And whether the pet is a trained therapy dog or a family cat, they all provide tangible health benefits. According to the American Heart Association, studies show that pet owners have lower blood pressure, and smaller increases in heart rate and blood pressure in response to stress.
Stuffed Animals Also Provide Comfort
If having an actual canine companion isn't possible, studies have shown stuffed animals can also help people with dementia.
Companies including The Alzheimer's Store sell both robotic and stuffed dogs and cats designed for dementia patients. The robotic versions are battery-operated and have sleep and breathe functions. More advanced robotic animals feature built-in sensors that respond to motion and touch, a heartbeat, lifelike coat and authentic sounds.
A study conducted last year compared the impact of a robotic stuffed animal to a regular stuffed animal for people with Alzheimer's disease. Results showed those who interacted with the robotic animals were more visually and verbally engaged than those with the regular stuffed animals. The study concluded that both robotic and stuffed animals reduced agitation in dementia patients and could be useful when a caregiver is otherwise occupied or when the dementia patient may need a furry dose of comfort.
This article originally appeared on BeingPatient.com on August 28, 2018.