Reporter Phil Gutis is living with Alzheimer's. So is his dog, Bea. One day, the same approach to treatment might help them both.
Sometimes I look up and see my future staring at me, wagging her tail.
Her name is Beatrice. She's a 16-year-old cattle dog mix and she has canine cognitive dysfunction, i.e, doggy dementia. 
We adopted Bea from my husband Tim's family in Florida about 13 years ago. She was an exuberant young pup who loved nothing more than to run and escape the family property. One day, she ran to a nearby horse stable and startled a horse, which fell and broke its hip.
The horse sadly had to be euthanized and the owner gave Tim's family an ultimatum: Pay for the cost of the horse or make Beatrice go away.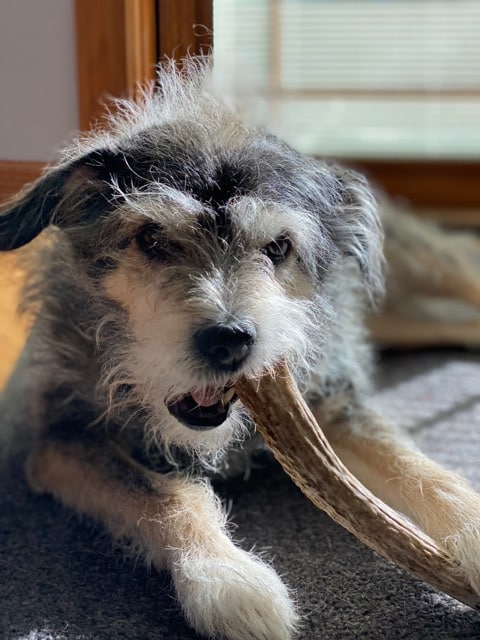 We're dog people. We've had a pack of anywhere from two to as many as seven when we moved north from Washington to New Hope, Pennsylvania. My husband does pet care professionally, and we often have clients visiting our home while their families travel. So, of course, when Tim heard of Beatrice's equine plight, he hopped in a car and traveled to Florida to pick her up. She was about two years old when she joined the pack at Dogwood, as we fondly call our tree-lined, dog-filled property.
Beatrice has outlived every other dog that was part of our lives when she arrived. She's even outlived some of those who arrived after her. There was Sadie, a lab mix. Abe, a Jack Russell. Oscar, another Jack Russell (and the grandson of Tim's first Jack Russell, Osceola, a frisbee champion and actual spokespooch who served as Alpo's Mighty Dog.) 
They have all crossed the rainbow bridge, but Beatrice keeps chugging along. 
The years have taken their toll on Beatrice, and she has a slew of issues.  She is hard of hearing and has trouble with vision. She has multitudes of fatty tumors. Her back legs are increasingly frail. But when she goes to the vet for her annual physical and blood workup, she passes with flying colors. She's on no medications.
In some ways, she's healthy as a horse. (Sorry, couldn't resist.)  In others, she struggles. She's started sundowning, barking uncontrollably for no reason. Treats, visits to the dog yard, nothing makes her content. 
She often wanders around our fenced property aimlessly, following a route that only she understands. Each day at breakfast and dinner, she stands at her bowl, seeming unsure what to do. She eventually gets there, licking the side of the bowl before diving into her meal of a few nuggets and rotisserie chicken.  Sometimes, her packmates try to push her away from her food, but typically when Bea starts eating, she won't be moved. 
Since Bea is always underfoot, she's a constant reminder of what I may be facing in the future. Interestingly enough, Bea and other sufferers of canine cognitive dysfunction might just maybe be a key to helping prevent human cognitive decline.
As Being Patient's Simon Spichak recently reported, scientists have discovered that dogs develop canine cognitive dysfunction, and their symptoms and pathology bear a striking resemblance to Alzheimer's: memory and learning impairments, changes in sociability, and sleep problems. 
Scientists are plugging away at possible treatments for these symptoms in dogs. This summer, a biotech company focused on Alzheimer's, Skin2Neuron, published results from a recent, small veterinary trial of a new cell therapy. According to the results, the therapy appeared to successfully treat symptoms like disorientation, anxiety, and difficulty remembering routines in the study's five canine subjects. Now, Skin2Neuron is gearing up for a clinical trial to see if the treatment also works in humans. 
In the trial, scientists took skin cells from the dogs and transformed them into neural precursor cells. These personalized precursor cells were then injected into the hippocampus, the region of the brain important for memory. 
Four out of the five dogs recruited for the study showed substantial cognitive improvements three months after the injection. Two dogs underwent a full reversal of the condition two years after the initial treatment. 
At the same time, Skin2Neuron published its paper in Stem Cell Research & Therapy, the New York Times reported on a study of 15,019 dogs enrolled in the Dog Aging Project. That study, published in the journal Scientific Reports, pinpointed the top factors associated with a dog's risk of getting the disease. 
One of the most important findings was that physical exercise might have the same protective effects for canine cognitive health as it does for humans. The study found that chances of a cognitive dysfunction diagnosis were 6.47 times higher in non-active dogs. 
Now Bea hasn't lacked for exercise or social interaction, proving once again that no one really knows why some dogs (and people) develop cognitive diseases and others similarly situated do not. 
We are keeping a watchful eye on Beatrice, and when she is suffering and no longer enjoys life, we'll know it is time to humanely end her suffering. That blessing is not yet available for most people living in the end stages of Alzheimer's or other cognitive diseases. 
We will, of course, be devastated when the time comes for Bea to leave us and find the horse she was so interested in as a puppy in animal heaven. But I'll do my best to remember our time with Bea for as long as I can.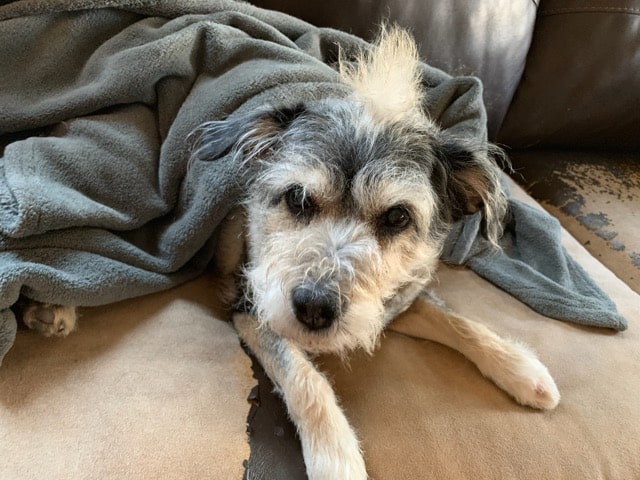 Phil Gutis is a former New York Times reporter and current Being Patient contributor who was diagnosed with early onset Alzheimer's. This article is part of his Phil's Journal series, chronicling his experience living with Alzheimer's and his participation in the aducanumab clinical trial.