Researchers in Denmark say they've found that destroying a certain gene can prevent early-onset Alzheimer's. The test subjects who helped them prove it: a lab-raised drove of the world's tiniest domestic pigs.
In a collaboration between the Department of Biomedicine and the Department of Clinical Medicine at Aarhus University, researchers bred a litter of tiny swine — called Gottingen minipigs — that they hope will allow for advanced future studies of the earliest sequences of events in Alzheimer's disease.  
For the study, recently published in Cell Reports Medicine, researchers in Denmark used  CRISPR gene editing technology to breed the little pigs with intentional damage to a certain gene: the SORL1 gene, or sortilin-related receptor 1, which is found altered in about 2 to 3 percent of cases of early-onset Alzheimer's disease in humans.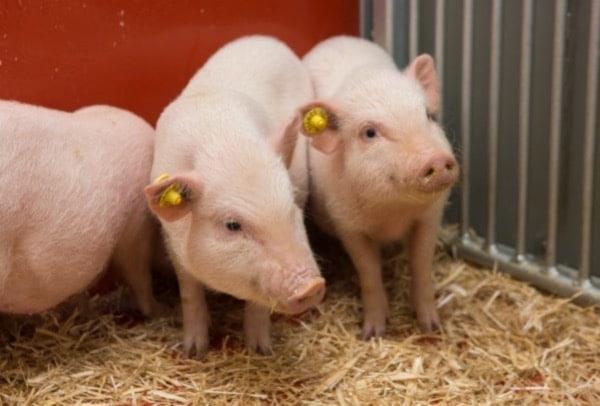 Just like humans with this gene, the researchers theorized that the pigs would be very likely to develop Alzheimer's disease at a younger age, giving the team more time to study the disease's mysterious early stages. 
The research team's CRISPR experiment worked: Their Gottingen minipigs all developed signs of Alzheimer's disease before the age of three. 
"By following the changes over time in the pigs, we can better understand the earliest changes in the cells," said the study's lead author Olav Michael Andersen, a professor at Aarhus University and the winner of a 2020 Alzheimer's Research Foundation research award grant.
"Later, these changes lead to the irreversible alterations in the brain that are the cause of dementia," he said. "But now we can follow the pigs before they lose their memory, change their behavior, [etcetera], which will make it possible to test new drugs that can be used at an early stage to prevent SORL1-associated Alzheimer's disease." 
SORL1 is one of several genes, including APP, PS1, PS2, and APOE4, known to be connected to the development of Alzheimer's disease. SORL1 was first identified at Andersen and colleagues' home university, Aarhus University, in 1996. Dr. Philip Scheltens is credited with establishing it as a cause of early-onset Alzheimer's disease in The Lancet in 2021. 
"We know from human genetics that when the SORL1 gene is destroyed, we develop Alzheimer's," Andersen said. "We have shown that if we destroy this gene in pigs, precisely the early changes occur in the animals' brain cells that we had dared to hope for. This makes it possible to find biomarkers that reflect the initial, pre-clinical phase of the disease."
Pigs….they're just like us
Pigs are an example of the efficacy of using larger animals to study neurodegenerative disease because their brains are more similar to humans than the oft-studied mice and rats. 
"Pigs resemble human beings in many ways, which is why this increases the possibilities of producing drugs that will work to counteract Alzheimer's," Andersen said. "It is important to have a workable animal model to bridge the gap between research and drug development."
A study out of Carleton University in Ottawa outlined the important role of pigs in studying neurodegenerative diseases due to the species similarities. Pigs naturally share isoforms of the tau protein, known to appear in the brains of people with Alzheimer's, while rodents do not. Humans and pigs also share similar densities of white and gray matter in the brain. 
Pigs and humans also share similar numbers of serotonin neurons, nearly six to eight times the serotonin neuron numbers of rats. And, strangely, pigs' brains share similar sex-specific development to humans: Female brains in both species experience hippocampal development earlier than male brains. Researchers can even use the same instruments on pig brains that they use for studying human brains because they are so similar in size. 
Pigs do require more space and resources than rodents in a laboratory, so using these specially bred minipigs is a compromise that lets researchers benefit from the pigs' brains without the necessity of large and resource-heavy care spaces.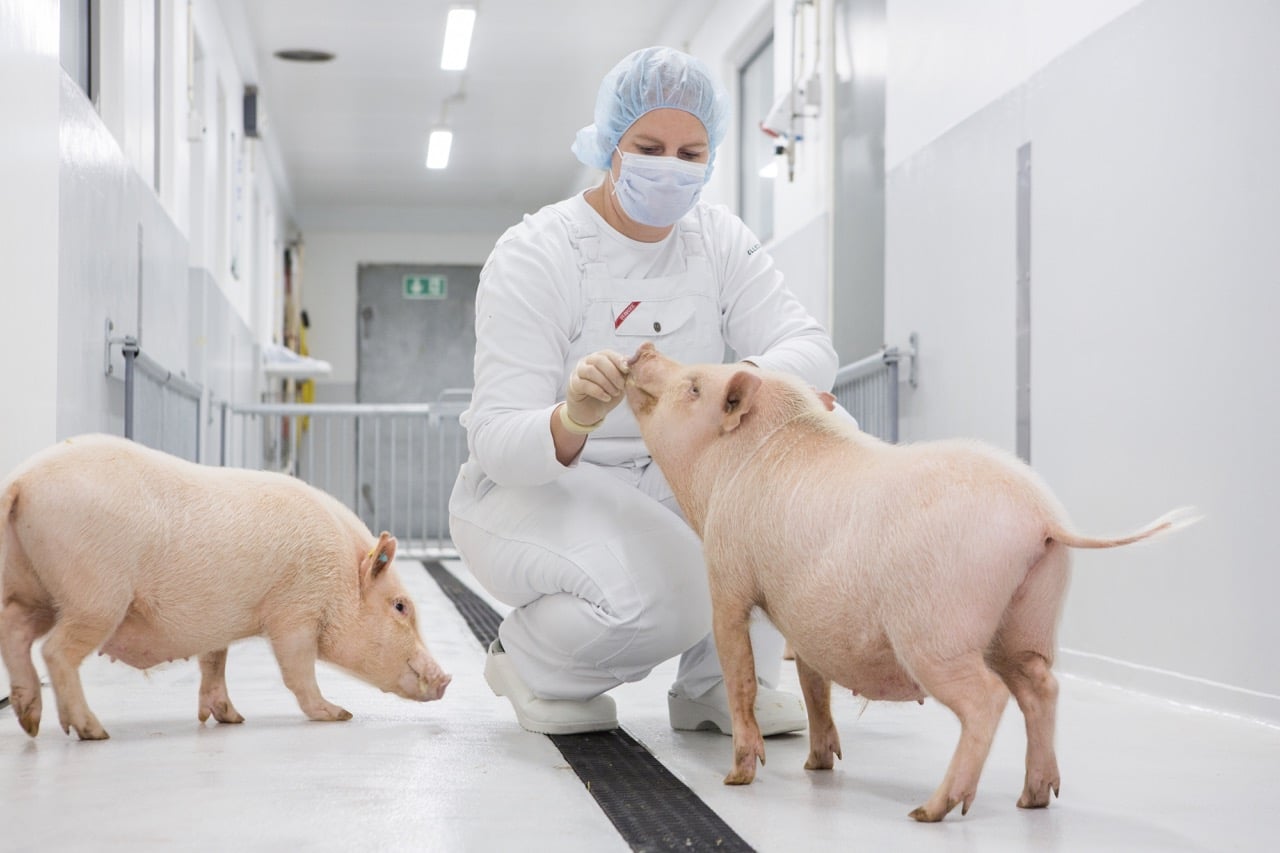 The researchers say their goal is to develop medicines based on studies with the Gottingen minipigs. Dementia cases are rising worldwide, and drugs are not catching up. 
According to Andersen, these lab pigs could be the answer. "The pigs can be used in the pharmaceutical industry to develop new drugs, and at the same time, this can provide researchers with better possibilities to understand the early changes in the brains of people who will later develop Alzheimer's," he said.
Andersen's team is currently breeding another litter of minipigs, with plans to collect blood in search of blood plasma biomarkers. 
 "The best thing would be to develop new medicines on the basis of this pig model, and we are already well advanced with the preparations," he said.