By Lecia Bushak | September 30th, 2019
A new study finds that choline, a nutrient supplement, may be beneficial in protecting mice against Alzheimer's.
Diet has been shown to play a role in staving off a variety of disorders, from cardiovascular disease to dementia. A new study pinpoints one particular nutrient supplement, choline, as having benefits in protecting the brain against Alzheimer's disease. The study, published in Aging Cell, was conducted by researchers at Arizona State University and focused on choline's effects on the brains of female mice. (So far, there is no definitive data on its effects in humans.)
Choline is a nutrient found in certain foods like meat, eggs, fish, dairy, potatoes, beans and cruciferous vegetables. It works primarily in building cell membranes, and plays an important role in regulating the brain and nervous system — including functions like memory and muscle control, according to the National Institutes of Health (NIH). Choline produces acetylcholine, a neurotransmitter that has been linked to various aspects of cognitive health.
The human body makes small amounts of choline in the liver, but people typically get the majority of their daily requirement (about 550 milligrams a day for men, and 425 milligrams a day for women) from food. This is why people sometimes take choline as a supplement in the form of multivitamin pills.
Microglia and beta-amyloid build-up
Before embarking on the latest research, Ramon Velazquez, a neuroscientist at the Arizona State University Banner Neurodegenerative Disease Research Center, completed a study that tested mice going through a water maze. The mice who had been given long-term choline supplementation showed spatial memory improvements compared to mice who had not. 
Velazquez built upon that study to conduct his current research, which found that high amounts of choline in the diet over a lifelong period showed beneficial effects in two main ways. For one, choline reduced beta-amyloid plaque development in the mice brains. Abnormal levels of this protein are a signature feature of Alzheimer's disease, so reducing them could be one way to fight the disease.
Choline also showed an ability to reduce microglia, which are cells that clean out the brain's harmful debris. Though normally-functioning microglia serve a favorable purpose as housekeeping cells to keep the brain healthy, over-activated microglia often do more damage than good. When these cells are over-activated, they can contribute to brain inflammation and cell death, and are associated with certain neurodegenerative diseases. Choline worked to reduce microglia activation, which the researchers concluded was beneficial.
"Our results demonstrate that lifelong choline supplementation produces profound benefits and suggest that simply modifying diet throughout life may reduce Alzheimer's disease pathology," the authors wrote in the study.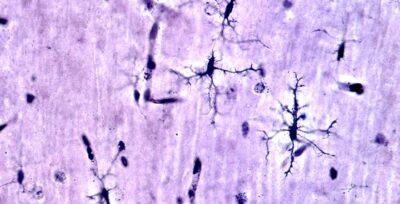 Choline and brain health
Certain lifestyle changes, like diet and exercise, have been shown to improve cognitive health and reduce the risk of dementia and Alzheimer's. Research has shown that two diets in particular — the MIND diet and the Mediterranean diet, both of which embrace plant-based foods, whole grains and fish — may improve cognitive health.
And based on this research, choline may be one nutrient — particularly because it's quite safe — to further investigate when it comes to protecting brain health, Velazquez argues.
"At 4.5 times the recommended daily intake [of choline], we are well under the tolerable upper limit, making this a safe preventive therapeutic strategy," he said in a press release.
But because there are so many complex factors that contribute to Alzheimer's — including genetics, environment and age — it's impossible to pinpoint diet or nutrient supplements as the only thing that can make a significant difference in slowing progression or stopping the disease.
According to the NIH, while past research has found that an increase of choline in the diet is linked to improved cognitive health, contradicting research shows that supplements of this nutrient don't do much to improve brain health in Alzheimer's, Parkinson's or dementia patients. Further research — including trials in humans — will be needed in order to better gage choline's role in helping protect the brain against neurological disorders.