By Elizabeth Hewitt | August 9th, 2022
By training caregivers with tools rooted in museum curation, England-based House of Memories aims to improve communication and connection with people living with dementia.
Earlier this year, when the House of Memories mobile museum visited a Liverpool nursing home, an older woman with dementia who had become withdrawn and hadn't spoken in some time went into the exhibit — a 360-degree virtual simulation of an overhead railway in the British city that was shut down in 1956.
In the exhibit, according to House of Memories Director Carol Rogers, the woman went over to a poster and, to the delight of her family members, began reading aloud.
The "On The Road" mobile museum is one of a slew of initiatives run by the House of Memories program of the National Museums Liverpool, designed to support people living with dementia and their caregivers through caregiver trainings, a specially designed app, and in-person events.
Rogers first began to think of museums as a resource that could improve dementia care when her own mother was living with dementia.
"We really needed tools to help us keep connecting with my mom," Rogers said. "I found myself drawing more and more upon my curatorial [and] my educational skills… working within a museum to do that."
Museums, she observed, are a natural source of support. "What we do is we look after memories."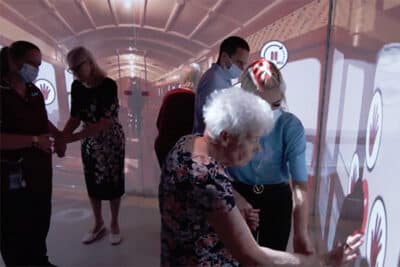 National Museums Liverpool began developing House of Memories a decade ago, with caregivers and family members who support people living with dementia in mind. Early on, Rogers said, the museum consulted with professional caregivers and people living with dementia to learn more about their needs.
Their program is part of a larger trend: Arts and culture centers are getting more attention as resources for older adults in general, and particularly for people living with dementia. Some programs, like the Museum of Modern Art in New York City, focus more on art viewing or object handling than reminiscence.
Research has found that the House of Memories trainings have a positive impact on caregivers, leaving them more optimistic and confident. One study found that though there wasn't an impact on the long-term burden on caregivers, there was a positive effect on the emotional wellbeing and practice of caregivers.
 With funding from the UK government, House of Memories launched its program for professionals in health and social care fields, training them in ways to encourage memory sharing. Another course, for family members and friends of people living with dementia, focuses on approaches that can enhance communication at home. 
Ten years on, about 12,500 people have been trained. The focus of the training, Rogers said, is getting at the personal stories of people living with dementia.
 "House of Memories has provided a really important link between the care skills that you need to look after the person, but also the communication skills that really help you connect with the person," she said.
 The House of Memories isn't just concerned with creating one dementia-inclusive experience. Rogers's team's goal is broader: to create a framework that is transferable to other museums. According to Rogers, House of Memories has worked with  institutions across the UK, from London to the Scottish Highlands, helping them apply this framework to their own specific collections and local history.
To make the museum-based collections and techniques more accessible to people living with dementia who are not able to visit a museum, House of Memories has also developed an app full of images of objects from across the decades — from crocheted bridal gloves worn at a wedding in November 1944, to a sweet tin bought at Notting Hill Carnival in 2000 — all brought to life with sound, music, and written descriptions, inviting people with dementia to connect with things from their past that may resonate with them. Users can also upload their own pictures to their personal collections. 
Since launching in the UK, House of Memories has partnered with a museum in Minnesota and one in Singapore to create versions of the app for those regions. From Singapore, a photo of a 1960s public bus is accompanied by sound effects; the American collection includes objects as recent as a 2017 Wheaties box featuring Olympic swimmer Michael Phelps.  
Rogers said a next priority for House of Memories is to have more research done evaluating the effectiveness of experiential memory aids and museum programs for people living with dementia.
 Small museums, libraries and cultural centers are an untapped resource that can be a valuable support for people living with dementia, but in order to be a resource, she said, that cultural infrastructure needs investment.
 "It's not a big ask, and I think it could have a massive long term impact," she said.