Researchers are finding ways to predict who will develop Alzheimer's disease by looking for clues in writing samples.
IBM researchers trained artificial intelligence to help predict Alzheimer's by looking at word usage and subtle language differences in writing tests, predicting who would go on to develop the disease, according to a recent study published in The Lancet.
The researchers set out to study linguistic performance as an early Alzheimer's biomarker among a "cognitively normal" baseline of participants of the Framingham Heart Study. The variables in their linguistic test came from written responses to a prompt asking participants to describe a drawing of a person stealing cookies.
The AI identified subjects who used more repetition, misspelled more words, or used more "telegraphic language" — simplified grammar that leaves out words like "the," "is" or "are." The researchers then compared the predictive performance of linguistic variables with clinical and neuropsychological variables. Ultimately, these patterns foretold who would develop Alzheimer's with 75 percent accuracy.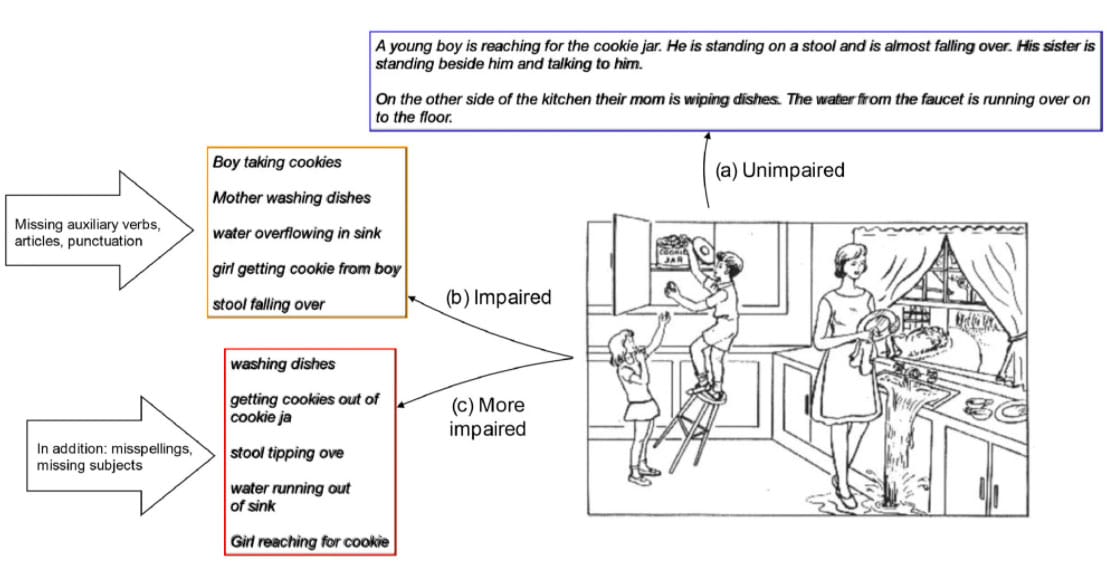 Examples from the study. Image: Elif Eyigoz et al., The Lancet 2020
Similar methodology has been applied to determining, with 85 percent accuracy, whether a patient will develop schizophrenia.
This is yet another indication that AI may soon be indispensable as a diagnostic tool for the notoriously tough-to-diagnose neurodegenerative disease. Other AI tests have been hailed for accuracy, looking at biomarkers like glucose metabolism via PET scan.
There has also been research into speech and writing patterns: For example, researcher Rhoda Au discussed with Being Patient in a BrainTalk about her work using digital voice recordings and a digital pen to determine whether changes in study participants' voice recordings or the way they write could help researchers predict whether or not they will develop Alzheimer's.
The IBM research combines both ideas with enough success to warrant further study.
"What is going on here is very clever," Alzheimer's researcher Dr. Jason Karlawish at the University of Pennsylvania told the New York Times of the new study. "Given a large volume of spoken or written speech, can you tease out a signal?"
At the University of California, Alzheimer's researcher Dr. Michael Weiner told the Times, "This is the first report I have seen that took people who are completely normal and predicted with some accuracy who would have problems years later."
Read more about the study in the New York Times.