By India Soranson Way | July 25th, 2019
After being diagnosed with early-onset Alzheimer's, Peter Berry took to cycling to get over his shock. He cycled 350 miles to raise money for dementia.
Peter Berry, dressed in a green, collared shirt and wearing black, wide-framed glasses, sat in his living room and faced the camera. After a deep breath, he began his introduction to his first YouTube video ever: "Okay. Good morning, everyone. My name is Peter Berry and I have early-onset Alzheimer's disease." And that was it: the first of 109 videos he has posted as a weekly update on his journey with Alzheimer's. Little did Berry know that through this platform, he would educate and inspire thousands, and find purpose in his life again.
However, Berry wasn't always open to sharing his story and posting it on YouTube for the world to see. His story began when, at the age of 50, he was diagnosed with early-onset Alzheimer's disease. At the time, Berry was working at his timber-sawing business, a family-run firm, but he began to make unexpected mistakes. When his wife came into their home office and saw sticky notes plastered everywhere with reminders Berry started writing for himself as he became increasingly forgetful, she knew there was a problem. After three years of intensive tests by doctors and specialists, they determined Berry had early-onset Alzheimer's.
The doctor said that Berry had eight to ten years maximum to live. Berry was initially shocked but thought to himself, I can deal with this. So what? However, as the weeks went on after the diagnosis, he remained numb. He didn't want anything to be wrong. Besides some general pamphlets about Alzheimer's disease, Berry received no support for himself or his family. It was as if they should carry on as normal.
Leaving Alzheimer's Behind, a Being Patient documentary short:
Berry fell into a state of deep depression, where he believed the world and his family would be better off without him. Crushed by the enormous weight of his Alzheimer's diagnosis, he began to contemplate suicide.
As Berry turned his situation over in his head, something dawned on him: "If nobody is helping us, then who is helping other people who have been diagnosed last week, or tomorrow or even six months ago?" This mindset was Berry's call to action. He realized his purpose was to educate others, spread awareness and inspire people like him to move forward. This is when he started his YouTube channel to personally reflect on his circumstances, and help others think about their own dementia as well.
Another major part of Berry's rehabilitation has been his passion for cycling. "When I go cycling, I leave dementia at home. I become what I was, not what I am." This discovery led him to the next part of his latest mission: cycling 350 miles through four counties in England—Suffolk, Cambridgeshire, Lincolnshire and Norfolk—and raising awareness about dementia to collect funds for Young Dementia UK.
What is perhaps the most inspiring about this feat is that Berry traveled on a penny farthing, a bicycle with a giant front wheel and small wheel in the back. Riding a penny farthing is a difficult skill to master, especially while riding one for hundreds of miles. Berry raised nearly $4,400 by the time he reached the final county.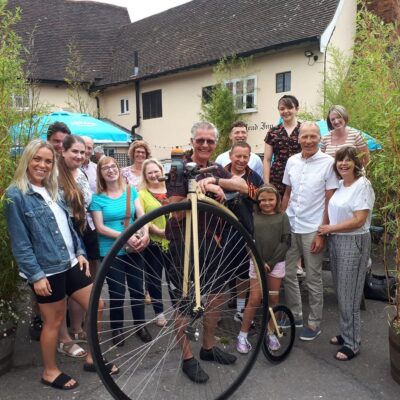 Berry shows others that no challenge is too great to overcome. All it takes is the courage to face things head-on.