By Linda Freund | May 17th, 2019
Dementia affects around 50 million people worldwide, with nearly 10 million new cases each year, according to the WHO (a figure that is expected to triple by 2030).
But there are concrete things individuals can do to chip away at their dementia risk. The World Health Organization (WHO) curated its top recommendations into a recent report that's jam-packed with dozens of data-backed ways to delay cognitive decline.
"There are a few things that we can do that maybe will not, say, prevent Alzheimer's disease definitively, but may delay its onset, slow its progression if it develops," said Dr. Ronald Petersen, Director of the Mayo Clinic Alzheimer's Disease Research Center.
The report's takeaway: a healthy lifestyle, replete with frequent exercise, a nutrient-rich diet, smoking cessation, and social engagement, protects the brain from decline. (Note: the report shoots down the notion that supplements, like vitamin B or E, prevent dementia).
How to Reduce Your Risk of Alzheimer's
Here are five scientifically-backed ways you can reduce your dementia risk and delay its onset:
1. Exercise Regularly
People who work out regularly are less likely to get dementia, according to a 2019 study published in Psychol Med. For people over age 65, the WHO suggests an exercise target of 150 minutes or more of aerobic exercise a week.
"So, 50 minutes three times, 30 minutes five times; vigorous walking, swimming, jogging if you're up to it," said Dr. Petersen. For optimal effectiveness, the aerobic bouts should last at least 10 minutes before taking a break.
Can't follow this recommendation due to physical limitations? No problem. Every little bit counts. The WHO report indicates adults should be "as physically active as their abilities and conditions allow."
Just getting more walks in can reduce risk by 60 percent.
2. Eat a Balanced Diet
Fill your kitchen with fresh fruits, vegetables, legumes (e.g. lentils, beans), nuts and whole grains (e.g. oats and brown rice). These are all linked to lower dementia risk.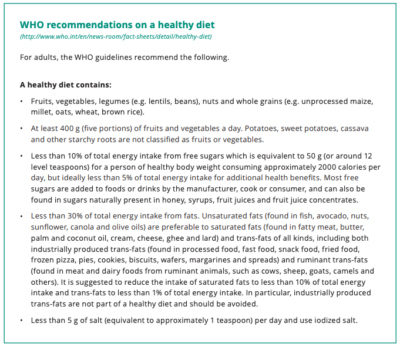 (Source: WHO Guidelines for Risk Reduction of Cognitive Decline and Dementia)
In addition, explore the Mediterranean diet, which is rich in antioxidants and omega-3 fatty acids that are scientifically proven to protect the brain. And they improve verbal and visual memory, according to a 2018 study conducted by Radd-Vagenas et al.
"Most people now recommend the Mediterranean diet. So a diet that's generally heart-healthy is probably a good idea for your overall nutrition as well as the brain," said Dr. Petersen.
Want a simple recipe to get started? Here's our video on how to make a delicious lentil salad.
3. Stop Smoking
The WHO report indicates that smoking causes brain damage, which leads to subsequent cognitive decline. This is especially the case for smokers over the age of 65.
To quit, the WHO suggests a combination of behavioral interventions like counseling and pharmacological interventions including nicotine replacement therapy, bupropion, and varenicline.
4. Drink in Moderation (or Not at All)
Binge drinking contributes to dementia and should be avoided  But moderate drinking (i.e. one glass of alcohol per day for a woman and two glasses for a man) is not associated with a higher risk, according to studies.  But the WHO reports there's no concrete evidence that moderate consumption of alcohol is, in fact, protective toward dementia.
"In general, we don't recommend that people start drinking if they don't drink. But on the other hand, if they do drink, just be modest about it," Dr. Petersen Said.
5. Stay Social and Intellectually Active
Social isolation is linked to depression and faster cognitive decline, particularly in older people, the WHO reports. But social engagement reduces dementia risk, according to a 2017 report by the Lancet Commission on Dementia Prevention, Intervention, and Care.
In short, make friends and stay intellectually active. Seek out game nights, book clubs, or group trips to museums.
"We think from observational studies that people who stay more intellectually active may have a lower risk of developing cognitive impairment," Dr. Petersen said.
Related Read: 'Re-Sculpt' Your Brain With Exercise and Lower Dementia Risk By Up to 90 Percent, Says Neuroscientist Wendy Suzuki