By Lecia Bushak | February 21st, 2020
Researchers have pinpointed a protein that contributes to tau accumulation in the brain, marking it as a possible therapy for FTD.
Researchers in Florida have pinpointed a protein that contributes to Alzheimer's biomarker tau protein accumulation in the brain. They argue it may be a key target in fighting tau protein associated with Alzheimer's and frontotemporal dementia. The study, conducted by scientists at the University of South Florida (USF) Health Morsani College of Medicine, examined how this protein impaired the brain's cleaning process in removing tau from the brain.
Tau and Frontotemporal Dementia
Tau, along with beta-amyloid, is one of the main proteins associated with neurodegenerative diseases. Finding a way to target tau, some experts believe, may be one therapeutic pathway to treating the disease. Even though beta-amyloid has been the main focus for scientists in recent years, some experts claim that tau protein may drive Alzheimer's even more than beta-amyloid.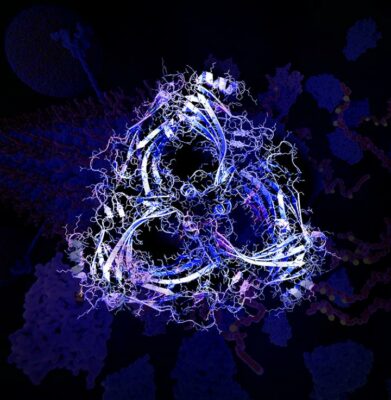 The researchers of the latest study focused on frontotemporal lobar degeneration (FTLD), known most commonly as frontotemporal dementia (FTD). FTD tends to be an earlier onset form of dementia than typical Alzheimer's, and is often seen in people as early as their 40s, 50s or 60s. It occurs when the brain's frontal and temporal lobes — associated with personality, behavior and language — shrink.
Tau protein also appears in the brains of people with FTD as opposed to beta-amyloid, making tauopathy a main feature of the disease. Tauopathy, or significant tau accumulation, leads to destroyed synapses and communication between neurons and eventually leads to cell death.
Exploring Ways to Clear Tau
In the study, the researchers honed in on a protein known as beta-arrestin-2 as a possible link to tau accumulation in FTD. They found that a specific form of the protein called oligomerized beta-arrestin-2 impaired the clearing process in the brain that "cleans" cells of toxic proteins like tau — a process known as autophagy. Another form of the protein called monomeric beta-arrestin-2, they found, did not damage autophagy.
Targeting oligomerized beta-arrestin-2 may be one path forward in fighting tau, the researchers argued.
"Our research could lead to a new strategy to block tau pathology in FTLD, Alzheimer's disease and other related dementias," JungA (Alexa) Woo, an assistant professor of molecular pharmacology and physiology at the USF Health Byrd Alzheimer's Center, said in a news release.
The researchers also found that using gene therapy to reduce beta-arrestin-2 levels in the brain was effective in restarting the tau clearing system in the brain, "erasing the tau tangles like an eraser,"  Dr. Stephen Liggett, a professor of medicine and medical engineering at the USF Health Morsani College of Medicine and an author of the study, said in the news release.
"This is something the field has been looking for — an intervention that does no harm and reverses the disease," he continued.