By Rianna Patterson | February 28th, 2023
Studying Alzheimer's at Cambridge, Oluwatomi Akingbade learned she had a passion for equality and representation in her field, leading her to found global networking platform Black Women in Science (BWiS).
This article is part of the series Diversity & Dementia, produced by Being Patient with support provided by Eisai.
For University of Cambridge PhD student and dementia researcher Oluwatomi "Tomi" Akingbade, there isn't a personal story that connects her to Alzheimer's disease — but as the rate at which Alzheimer's diagnoses are increasing, she knows there may one day be such a story.
"I think finally deciding into the field of Alzheimer's disease started from a recent placement I went on during my undergraduate degree," she told Being Patient. "It happened to be in the field of Alzheimer's disease research."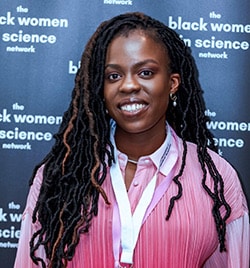 She was drawn in by the rapid progression the field was making, and as Alzheimer's being one of the leading causes of death in the world, she felt it was a place she could make a meaningful difference.
"I'm really intrigued by the fact that we know so much, yet there is still so much to learn," she told Being Patient. "Different approaches to the same question can lead to different outcomes and to tease out what is really going on in Alzheimer's disease and the mechanisms that underlie motivates me to continue to work in this field."
Akingbade is currently working on a project on neuroinflammation in Alzheimer's disease, as a student in the lab of University of Cambridge Professor of Biophysical Chemistry Sir David Klenerman, who is known for the next-generation DNA sequencing research that led to his knighthood. In this lab, Akingbade and colleagues are diving deep into the role that inflammation plays in the progression of Alzheimer's disease.
"I am interested in exploring what happens to people's genetics and how these changes affect the outcome of Alzheimer's disease," she said.
But from her time as an undergraduate, Akingbade recognized that, as a Black woman in science, her career journey required her to overcome barriers that her white and/or male colleagues never faced. In 2018, as an undergraduate, she launched what she hoped would be a solution for other young scientists like her: The Black Women in Science (BWIS) network.
She looked around her workplace, and didn't see anybody who looked like her, she recalled. 
"I was also alarmed by the lack of representation that I saw and felt in my entire experience, so I wanted to ask other Black women in science as to why we don't exist here." She said.
Today, BWIS aims to impact people's lives, both for Black women in science directly, and for members of the scientific community at large. 
In 2023, Akingbade said, the BWIS is going to continue to diversify the field even more, increasing visibility of Black women in science. Akingbade and colleagues are working on various campaigns all throughout the year, including networking events that have Akingbade and fellow BWIS members traveling the UK, hosting brunches as a safe space for Black women in science to engage with their peers, be themselves and enjoy being scientists, Akingbade said. 
BWIS also provides consultancy services to various fellowships looking to give funding to POC scientists and they have events internally that they host for their members. 
The networking organization is not just a platform — it's a movement, Akingbade added. The platform, she hopes, will amplify and share the voices of Black women in science. The movement, meanwhile, "is changing the intrinsic policies and increasing diversity in the scientific field," she said.
 "It is always great and a highlight of my month, as I am able to go to a space where I am accepted as I am, and I don't feel the need to put any pretense or walls up," she said of the events — and this is what she wants others to gain from them too.
Rianna Patterson founded the Dominica Dementia Foundation at 18, in memory of her grandfather who passed away with Dementia in Dominica. Twitter @riannapatterson.