By Susanna Granieri | June 2nd, 2020
"Like falling through a cloud"
Eugenia Zukerman, 72, left the hospital, jumped on the subway and headed back to her apartment. She sat at her desk and stared aimlessly at the wall, soaking up the news she had just received. She picked up her pencil and began writing, not telling anyone what she was working on that entire afternoon. 
The words just flowed from her, she recalls. She enjoyed the way her stanzas were placed on the page, like putting strange letters on paper, almost as if she were painting.
After about 25 pages, she shared her work with her youngest daughter, who is a writer herself, and asked for feedback. "Mom, this is really very special, you have to keep doing it," said her daughter.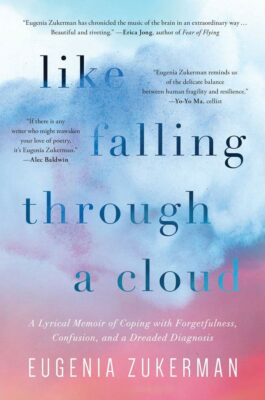 This was over three years ago, after Zukerman was diagnosed with stage 1 Alzheimer's. In November 2019, she published her sixth book Like Falling Through A Cloud: A Lyrical Memoir, a collection of poetry that follows her journey from her initial Alzheimer's diagnosis to present day, and the ways she has handled this shift in her daily life.
At first, Zukerman had ignored the warning signs of her cognitive decline, but her daughters took a different approach. They were worried about her forgetfulness, loss of words and confusion. After they insisted she was tested, Zukerman finally went to see her doctor. She told Being Patient she was surprised at the results.
"I was completely shocked that I indeed was cognitively impaired," she said. "With a difficult diagnosis [like this], I was in denial."
Using her writing as a coping mechanism alongside her love for music, Zukerman, an accomplished flutist, was able to channel her feelings into her poetry. It turns out that she has accomplished more in this creative experiment than turning out some poems: While bettering herself, she also found an outlet for the many people who can't figure out how to talk about their personal diagnoses.
"At a book signing just before Christmas, a gentleman came up and was buying six books. He was an Alzheimer's patient and hadn't been able to find the words to tell his family about what he was going through," said Zukerman's husband Richard Novik. "He said that Eugenia's book had found the exact words. So we knew in that moment this could be an important book, as this disease touches every family [in some way]."
While "Like Falling Through A Cloud" assists people living with Alzheimer's, it has also allowed caregivers to achieve a deeper understanding. People deal with their diagnoses in different ways, where some are angry and others are confused on how they are supposed to deal with it.
"It is very, very helpful to have a caregiver who has patience and kindness," Zukerman said. "I think the most important thing to do is to be kind, to be helpful and above all else, make your patient feel loved."
With the right caregiver and support, people living with Alzheimer's can find their own positivities to light up their days – for Zukerman, music is her outlet and a consistent theme in her book.
Her poem "Writing on the Wind" references her thoughts while commuting to one of her concerts at the Kennedy Center. Zukerman describes that she had lost her "nerves of steel" and was ready to create smooth sounds cohesively together for her audience to enjoy. 
She says that she can perform by "blowing across a golden mouthpiece/and there will be no words to jumble/or statements to stumble/because/sculpting sound with air/is like writing on the wind."
"I am very lucky that I have music deep in my soul," she said. "The doctors are saying that there is a real connection between music and memory. I've played the flute every single day since I was 10 years old and it helps me a lot. It's the first thing I do in the morning and it's like my shadow, it's with me all the time." 
Zukerman adds that she believes it is very important for someone living with Alzheimer's to exercise. "I think it starts the brain clicking, so every day I roll out of bed and I do sit-ups," she said. "I do big hikes sometimes while other times I will do a small one, but I am on the move a lot. I really do think that it helps enormously."
Supportive family, writing, music and physical exercise have made this life change all the easier, but perhaps the biggest help in coping with her diagnosis has been holding on to gratitude, positivity, and "seizing every day."
She says, "I think no matter what happens in your life, the important thing to do is find a way to see something positive in it."
"I have no bitterness about this and I would rather spend my time writing or walking with the dogs, or just thinking, rather than feeling like "why me?" It doesn't come to my mind." she added. "I feel very lucky. And it is a very beautiful time in my life."