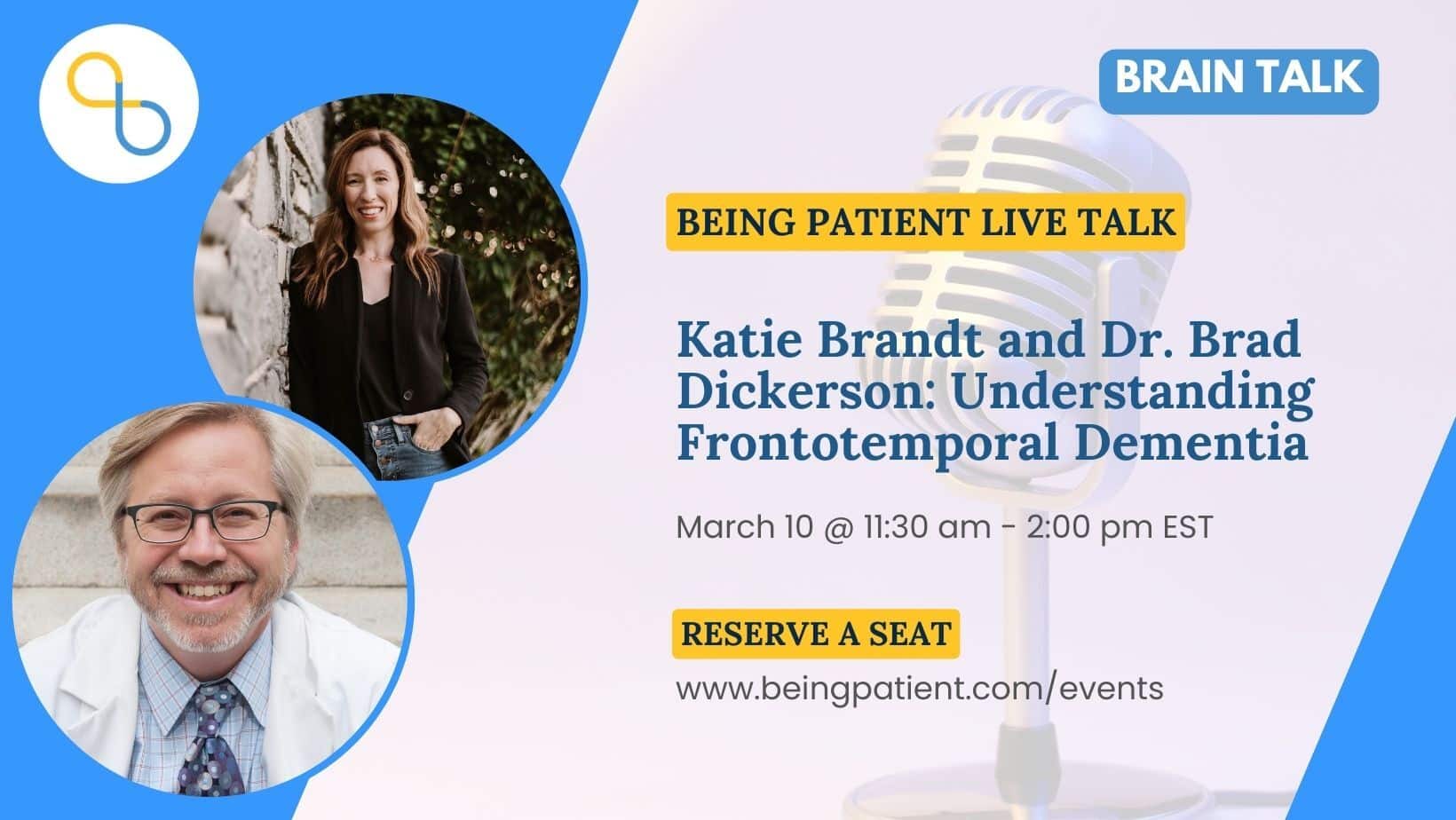 This event has passed. You can read highlights from the interview and watch the YouTube recording of the talk here. 
On Friday, March 10th, 11:30 a.m. PT/2:30 p.m. ET, Katie Brandt and Dr. Brad Dickerson join Being Patient Live Talks to discuss frontotemporal dementia and what goes into diagnosis. With the news of Bruce Willis's diagnosis of frontotemporal dementia, many have questions about diagnosis and what to expect.  
Brandt, who has spoken with Being Patient previously on the impact of her late husband's frontotemporal dementia diagnosis, is an advocate for awareness from the caregiver's perspective.  She's also the director of caregiver support services and public relations for Massachusetts General Hospital's Frontotemporal Disorders Unit, a lead volunteer with the Association for Frontotemporal Degeneration (AFTD), and a co-facilitator of the Boston area FTD Support Group.
Dickerson, an advisor for Being Patient, is the Director of the Massachusetts General Hospital Frontotemporal Disorders Unit and Neuroimaging Lab in Boston. He is also a staff behavioral neurologist in the MGH Memory Disorders Unit and co-investigator on the Neuroimaging Core of the Alzheimer's Disease Research Center. Both will share their insights and answer reader questions about frontotemporal dementia. 
Brandt and Dickerson join Being Patient founder Deborah Kan to answer key questions from a caregiver and medical perspective. Tune in via Being Patient's Facebook page to learn more about frontotemporal dementia from a caregiver and brain health perspective.