By Lonna Whiting | June 26th, 2023
Is Jack Hanna's Alzheimer's journey 'normal'? Dementia caregiving experts explain what he's going through and how to manage similar symptoms.
At first glance, celebrity animal expert Jack Hanna appears to be living a nice, quiet life at his home in Montana. In the mornings, he wakes up, eats a hearty breakfast, then takes a long walk with his wife Suzi. He usually spends afternoons sitting in the sun watching the world go by with his dog, Brassy. It sounds idyllic — except Hanna has been living with Alzheimer's since 2019, a disease that compelled this once gregarious TV personality to retire from his storied career as a dynamic zookeeper and champion of animals. 
In 2021, the family decided to share their story with the world to help other families facing a similar path. And last week, Columbus Dispatch journalist Mike Wagner wrote in an intimate and raw story detailing Hanna's decline.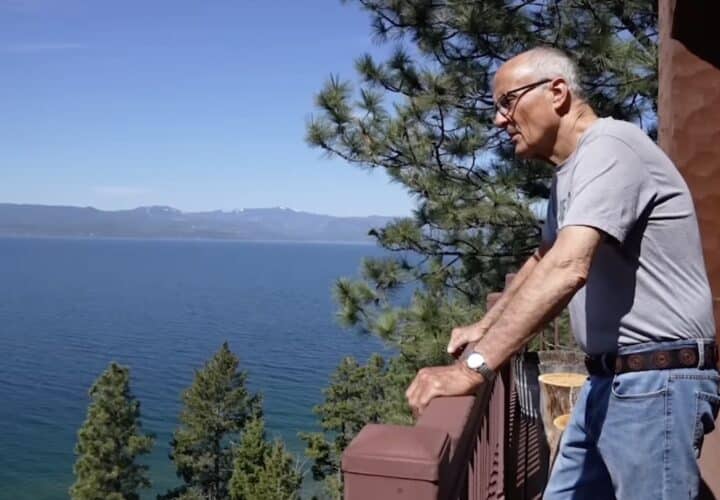 There's no hiding Hanna's dementia — not anymore. According to Wagner's article, Hanna is losing recognition of the people closest to him, he shuffles when he walks and often stares into space. He's navigating insomnia, aphasia and agitation, too.
Although life-changing for him and for his loved ones, Hanna's symptoms and behaviors present millions of other dementia cases have, and his family's decision to be open about his experience living with Alzheimer's can serve as a comforting study for other families like his — about how to alleviate discomfort if we or someone we love is diagnosed. 
Here are five of the dementia symptoms  Hanna and his family are confronting now — and what his Alzheimer's journey can teach others about navigating the disease with greater ease and understanding — and hope, too. 
Symptom: Feeling agitated, aggressive or sleepless in the evenings
Strategy: Redirect.
Hanna's wife Suzi said he's often up in the middle of the night pacing. Also known as sundowning, the evening agitation many people with Alzheimer's and other dementia often experience can be particularly challenging and troubling for care partners. Often, however, rerouting the person's attention to something else is enough to calm them down. 
Occupational therapist and renowned dementia expert Teepa Snow said sundowning is common and stems from the brain misfiring signals at the end of the day that the person isn't in the right place or the right people. Snow suggests trying these three tactics:
Change the environment: Redirect the person to a more calming room. 
Change the activity: Go for a walk or work on a puzzle. Here are a few other ideas for dementia-inclusive activities.
Change the person: If you're a caregiver, take a break. Invite a guest. Change up the company.
Sometimes, dementia caregiving consultant Christy Turner adds, sundowning can lead to pacing and emotional meltdowns. In these instances, ensuring the person's safety is the top priority. Once the caretaker sees they are not in harm's way, Turner recommends supervising from a distance, giving the person space as opposed to confronting them head-on, which could escalate anger.
Symptom: Repeating the same phrases and gestures
Strategy: Create reminders — and be patient.
Earlier in his disease, Hanna asked his wife Suzi about a dozen times a day if she fed the dog. 
"Your loved one is missing a file cabinet in their brain that's marked 'What's Happening Today.' And even if you went over it multiple times, you put it in your file cabinet again, you've been in and out of the file cabinet multiple times, your loved one has no file cabinet and can't hold on to that memory," Snow said.
Repetitive questioning is common in people living with dementia, as is repeating the same phrase or song, repetitive counting, tapping, and hand wringing. Perseveration with repetitive behaviors is so common, in fact, there is a term for it: echolalia.
Repetitive behaviors like hand wringing are self-soothing behaviors, while more violent actions, such as hitting, spitting or throwing objects require caregivers to redirect to another environment, activity or person. Sometimes medical intervention is necessary. 
Other guidance from Alzheimer's caregiving experts:
Identify any triggers in the environment that may cause anxiety.

Answer the person when they ask the same question, even if you have to repeat yourself several times.

Be patient with the person and yourself.
Symptom: Physically or verbally acting out
Strategy: Set up a routine — and plan engaging activities.
Wagner wrote in his article about Hanna's struggle with agitation when his routine got disrupted: "The continuity of his routine calms a man who has little memory of his previous life. Disruptions to it can cause outbursts of frustration or even anger, usually toward Suzi."
Experts at the Alzheimer's Association say that establishing a routine is a tried and true strategy for reducing or avoiding physical or verbal agitation. Routines also help caregivers because they allow caregivers to spend less of their valuable bandwidth figuring out what to do, and more time on meaningful or enjoyable activities.
As with repetitive behaviors, depending on the severity, acting out physically or verbally might also require redirection or medical support.
Symptom: No longer recognizes loved ones
Strategy: Meet your loved one where they are.
Snow recommends caregivers learn as much as they can about their loved ones' disease because knowledge is power.  Also helpful: meeting them in their world. "What I have to understand if I'm really going to be with you (the person with dementia) and where you are in this moment is the idea that you're doing this on purpose," Snow said in an interview with Being Patient. 
It can be very emotionally difficult for family and friends when a loved one with dementia forgets them. Talking with other family members or caregivers in a support group setting can help families navigate this difficult progression. Mental health therapies and other self-care tools are also helpful.
Symptom: Refusing to do something
Strategy: Consider a 'white lie.'
A routine dental visit caused enormous anxiety for Hanna, so much so that he refused to get out of the car when they arrived for the procedure. Refusing to shower, getting in a car or going to the doctor or dentist (as Hanna refused to do) are common for people to experience dementia. 
Unnerving as it sounds, lying or fibbing can be an effective strategy when someone refuses to do something that's uncomfortable to them. In Hanna's case, Suzi lied, telling him she was the one getting treatment and wanted Hanna to hold her hand. It worked.
Patti Davis, daughter of the former U.S. President Ronald Reagan and author of the memoir Floating in the Deep End, wrote about "creative lying." She recalls a few instances in which her father seemed to be living in moments from his past, and that lying to him reduced frustration.
"During one of these episodes, my father believed it was morning and he needed to go to the office. We told him that the office called and said he didn't need to come in because it was being fumigated, so no one was going to be allowed in," Davis wrote. "He accepted that, and shortly afterward, forgot about going to the office." 
More guidance for caregivers
Being Patient boasts a library of articles and interviews with experts for caregivers about how to take care of their loved ones and themselves. Browse the caregiving archives for science-backed, expert-vetted guidance on everything from driving and dementia to speech loss, Alzheimer's symptoms management to caregiver burnout.