By Phil Gutis | July 13th, 2023
Writer Phil Gutis has early onset Alzheimer's, but thanks to the aducanumab clinical trial, he's living amyloid-free. But whether to continue taking the drug has been a tough call. Here's what he decided.
We arrived at the emergency vet at 1 a.m. Our 10-month-old kitten, Pippin, had started breathing oddly earlier in the day but we thought he was maybe overheated from spending a bit too long on our screened-in porch.
But after midnight, it seemed his breathing was getting more labored. So we jumped in the car and drove 30 minutes to the one emergency vet in the area.
We left an hour later, having had to say goodbye to our little boy who apparently was suffering from congestive heart failure. In retrospect, we can see some signs that not all was well. But cats are masters of masking and Pippin didn't really let us know that something was wrong until the very end.
The doctor told us that it was possible with the right treatment — diuretics to clear his lungs and other heart meds — that Pippin could have gone home in a few days. But she warned us that we would inevitably find ourselves back at the vet with him in a few weeks, a month, maybe a year at the most.
And she told us that his quality of life would not be good. 
As we drove home from the vet, that term — quality of life — kept bouncing around in my head. Not only did it convince us that it was time to say goodbye to Pip, but it is also a term that interestingly we hear a lot in the Alzheimer's community, particularly in the debate around the new disease-modifying drugs approved by the Food and Drug Administration.
These drugs — Aduhelm (aka aducanumab) and Leqembi (lecanemab) — have been proven to slow the development of Alzheimer's symptoms when given to people who are very early in the disease cycle.
The FDA made Alzheimer's history last week by giving Leqembi so-called full traditional approval. Until now, both Aduhelm and Leqembi have been approved under the FDA's expedited approval process for drugs that meet a critical unmet need in the marketplace.
I've been on aducanumab for most of the last seven years and truly believe that the drug has helped me. None of the dozens of MRIs that I've had have shown any sign of brain swelling. And subsequent PET scans have shown that my brain is now free of amyloid, a protein that is used to help diagnose Alzheimer's.
As we drove home from the
vet, that term — quality of life —
kept bouncing around in my head.
A few months ago, Biogen ended the aducanumab trial that I've been in since my diagnosis seven years ago. Completing the trial was another landmark but it left me with many questions — primarily: Should I continue to treat with Aduhelm?
My first consideration was: Could we afford the extraordinary cost of $26,000 a year? The bureaucrats who run Medicaid continue to refuse to pay for Aduhelm because it is still considered experimental. 
Thankfully, Biogen offers a program to help cover the cost of the medication. We qualified to receive the drug for $250 a month.
But then came the question, Should I continue treatment. After all, I'm amyloid free now, and clearing amyloid is the primary goal of Aduhelm.
So, I started asking around. One doctor suggested a pause to see how I would feel without treatment. A neurologist said I should end treatment, that the drug had done all the good it was going to do.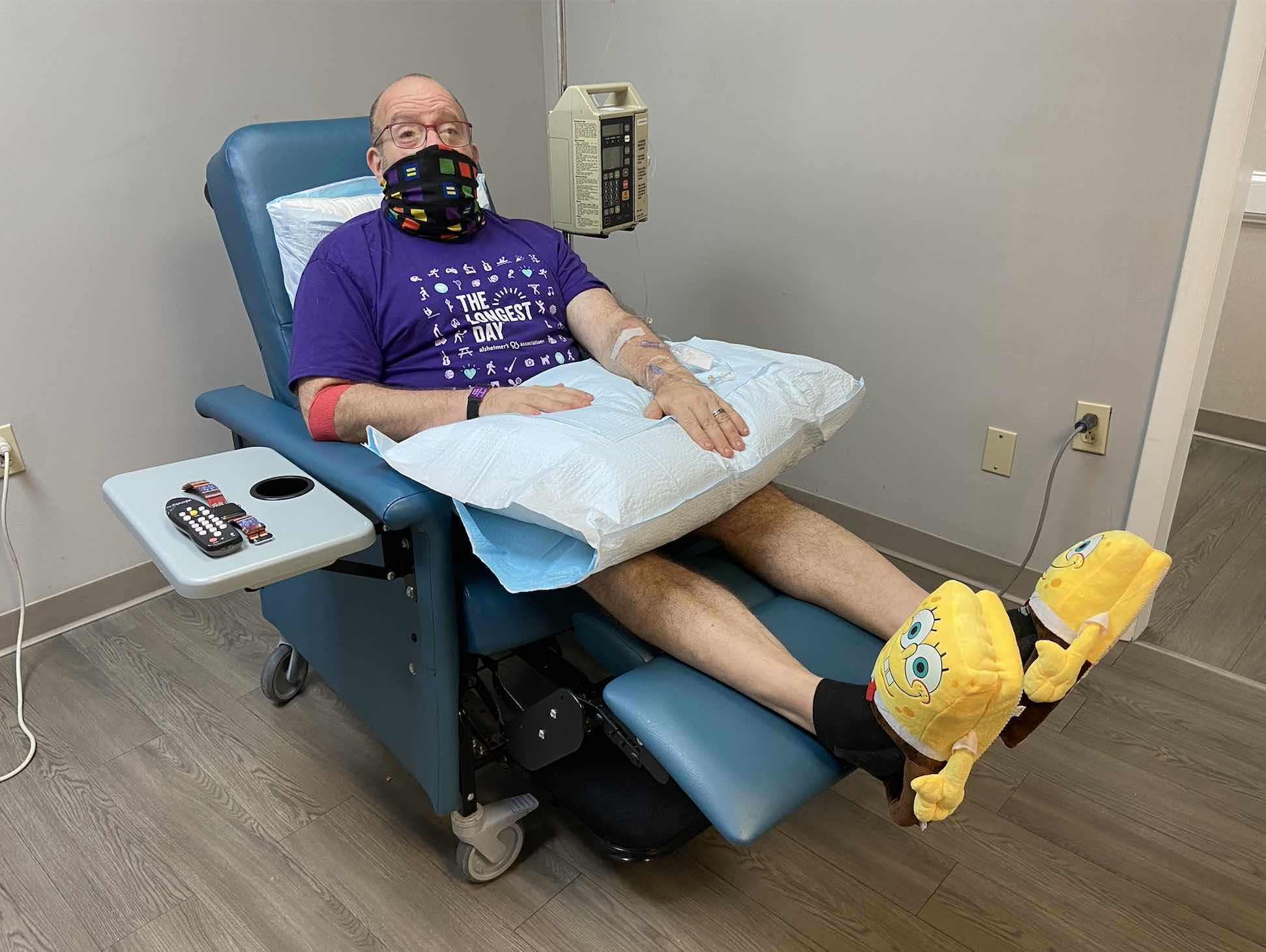 But I just couldn't give up. I've done so well on aducanumab and wondered what would happen if I started to decline without the drug. So much is unknown about these drugs and their impact on the brain.
That's when I reached out to Dr. Sharon Cohen, a neurologist in Toronto that I've come to respect mightily. Her suggestion was powerful.
"Phil," she wrote, "if it was me, I would continue. Those who say the drug has done as much good as it can, i.e., the 'plaque is gone,' do not understand the whole story."
She went on to explain why. 
First, she said, there are no stopping criteria as part of the FDA label or as part of the Appropriate Use Recommendations. The only suggestion to end treatment is for severe aria or brain bleeds. I've never had them and apparently the risk of ARIA is very low after the initial dosing of the drug in the first six months.
Secondly, she said, "clearance of amyloid plaque as seen on PET amyloid scans does not tell the whole story about the impact of aducanumab on the biology of Alzheimer's."
"Those who say the drug has
done as much good as it can, i.e.,
the 'plaque is gone,' do not
understand the whole story."
Cohen said aducanumab also clears "soluble large aggregates of amyloid."
These aggregates, she said, "may be even more toxic than plaque and these soluble aggregates cannot be seen on PET."
Cohen also noted that evidence from the gap periods between the various aducanumab trials that amyloid gradually reaccumulates when aducanumab is stopped.
Given Cohen's strong recommendation and my fear of what would happen if I went untreated, my husband and I decided that it would be best for me to continue treatment. So we're continuing to make the monthly trek to the infusion center and I'm continuing to grit my teeth as the staff locates a usable vein
Ultimately, my decision to continue treatment came down to those three words: quality of life. While we sadly couldn't do anything for our sweet kitten Pippin, my family and I are determined to do everything we can to ensure my quality of life as my journey with Alzheimer's continues. 
Pippin's life, as I wrote in a farewell message on Facebook, was that of a true shooting star, so bright but so short-lived. Hopefully my story will continue on for quite some time.
Phil Gutis is a former New York Times reporter and current Being Patient contributor who was diagnosed with early onset Alzheimer's. This article is part of his Phil's Journal series, chronicling his experience living with Alzheimer's and his participation in the aducanumab clinical trial.