By Simon Spichak, MSc | March 21st, 2023
More than just beta-amyloid and tau: Toxic proteins researchers hardly ever talk about were just found in 60% of Alzheimer's cases.
Anna Karenina begins with the famous line: "Happy families are all alike; every unhappy family is unhappy in its own way." The principle holds true for neurodegenerative conditions — every brain with Alzheimer's or other dementia is also affected in its own way. This differentiation is what, so far, has kept the cause of the very prevalent Alzheimer's disease an enduring mystery. For decades, researchers have been honing in on the root cause, observing the almost ubiquitous presence of certain toxic proteins in Alzheimer's brains. Those protein biomarkers are amyloid plaques and tau tangles. But, scientists are discovering, there are often many toxic protein deposits outside of these usual suspects.
In fact, an autopsy-based study recently published in the journal Brain by a team at the University of Pennsylvania found that toxic protein deposits typically associated with diseases like Parkinson's or amyotrophic lateral sclerosis are also present in around three out of five cases of Alzheimer's. 

"Dementia is a complex phenotype, and the typical Alzheimer's disease patient will have multiple processes and pathologies that collectively contribute to cognitive dysfunction beyond just plaques and tangles," the lead author of the study Dr. Edward B. Lee, an associate professor of pathology at the University of Pennsylvania told Being Patient. "In this study, we extend this observation across other non-Alzheimer's conditions such as Lewy body disease and frontotemporal dementia where comorbid neuropathologies are the norm in most instances."
The complicated nature of neurodegenerative disease
The researchers looked at the brains of 1,647 individuals postmortem for signs of 10 toxic protein deposits and structural changes (such as signs of stroke) which occur across neurodegenerative conditions across 16 brain regions.
The brains belonged to cognitively healthy older individuals as well as those diagnosed with neurodegenerative disorders such as Alzheimer's, mixed dementia, ALS, frontotemporal degeneration, multiple system atrophy, probable Lewy body dementia.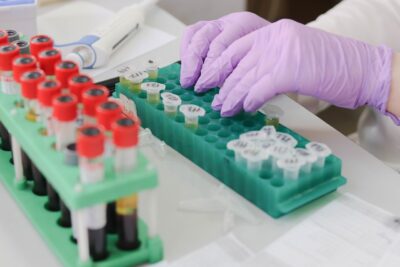 Many Alzheimer's brains featured four or more types of structural changes and protein aggregates. One individual may have amyloid plaques, tau tangles, alpha-synuclein plaques, signs of stroke, and Lewy bodies. Another individual with Alzheimer's meanwhile may have a different combination of these toxic deposits. The researchers also found 35 different combinations of toxic protein deposits and structural changes in cognitively unimpaired individuals. 
"A very interesting question is why some elderly individuals are resilient in the face of multiple neurodegenerative disease pathologies, being clinically normal despite having multiple brain pathologies," Lee said. "Numerous factors are likely related to resilience including cognitive reserve which has been associated with educational attainment and other sociodemographic factors such as being minoritized or living in a deprived neighborhood."
Finding new biomarkers to develop new treatments
There are many ways to test for amyloid and tau biomarkers through PET scans as well as blood tests. Two amyloid-lowering drugs — Aduhelm and Leqembi — are approved for treating Alzheimer's. But there aren't any reliable tools or treatments based on the other toxic protein deposits. "The issue is that we don't have biomarkers (yet) for the other comorbid pathologies," Lee said.
Figuring out how to detect these different types of plaques and pathologies could be an important step toward developing personalized treatments. "Therapies targeting a single pathology, such as anti-amyloid immunotherapy, may not adequately address the numerous other pathologies that are commonly seen in neurodegenerative disease," Lee said. "Knowing each person's specific combination of pathologies may help guide personalized treatments which we hope will be developed in the coming years."