By Nicholas Chan | December 17th, 2021
Holiday shopping? Check out our list of books by the guests we've featured in our
LiveTalk series
this year. 
Each of these authors shared their own unique experience with dementia in our 2021 Being Patient LiveTalks, and throughout all of these insightful, personal, moving conversations, we've found new perspectives on dementia, and universal truths that offer hope, comfort, guidance and fellowship. Get the full story in each of these subjects' books.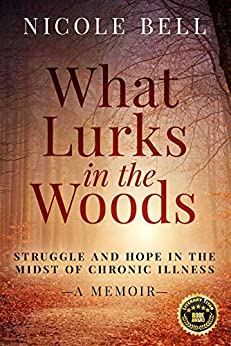 Nicole Bell was determined to find out the cause of her husband Russ Bell's early-onset Alzheimer's. In the book What Lurks in the Woods: Struggle and Hope in the Midst of Chronic Illness (Oct. 2021), she uncovers how Lyme disease became the prime suspect for triggering his Alzheimer's, and the challenges that her family experienced in the search for effective treatments.
"I'm an engineer and I've worked with lots of really complex systems," Nicole told Being Patient. "There's always a reason. There's always a root cause."
Read on: Being Patient spoke with Nicole about Russ' early symptoms of Alzheimer's and why she believes that Lyme disease could be responsible for his unexpected diagnosis of Alzheimer's.
__________________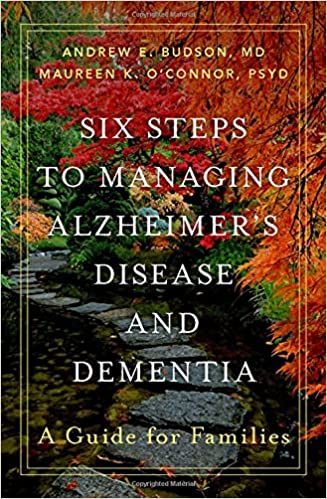 Andrew Budson and Maureen K. O'Connor, authors of Six Steps to Managing Alzheimer's Disease and Dementia: A Guide for Families (Sept. 2021), reminds family members with loved ones living with dementia that they are not alone. In the book, they offer a detailed guide for families on their caregiving journey, providing guidance on a host of topics that range from building a care team, to nurturing a relationship with a person living with dementia and a care partner, to strategies for managing medications and various dementia symptoms.
"Caring for someone with Alzheimer's disease or another dementia can be one of the most frustrating, exhausting, and heartbreaking activities that one can do — but it can also be fulfilling and rewarding," Budson and O'Connor wrote in the book.
Read on: Being Patient spoke with Budson, chief of cognitive and behavioral neurology at Veterans Affairs Boston Healthcare System and professor of neurology at Boston University, about ways for caregivers to manage the cognitive and behavioral symptoms of dementia.
__________________

Jennifer Bute was a general practitioner whose patients included those with dementia. But as she began experiencing symptoms herself, she was diagnosed with early-onset Alzheimer's after a long and arduous process. Today, Bute sees her diagnosis as a "glorious opportunity" to help others on their own Alzheimer's journeys. In Dementia from the Inside: A Doctor's Personal Journey of Hope (2018), she writes about her faith and what it means to enable, rather than to disable, people living with dementia. 
Bute told Being Patient of a key principle in caring for people with the illness: "Feelings remain when facts are forgotten." 
Read on: Being Patient spoke with Bute about how to help people living with dementia feel seen, accepted and valued.
__________________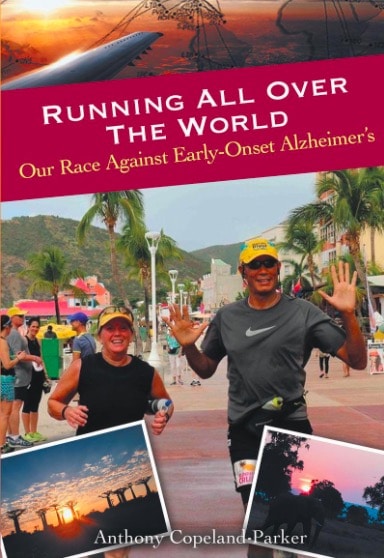 Anthony Copeland-Parker underwent heart valve replacement surgery around the same time when his partner Catherine Elizabeth Popp was diagnosed with early-onset Alzheimer's. But neither event was going to stop the couple from pursuing their lifelong passions: traveling and endurance running. In the book Running All Over the World: Our Race Against Early-Onset Alzheimer's (July 2021), Copeland-Parker chronicles the couple's post-retirement travels to 82 countries, running in marathons and half-marathons across the globe. 
In an interview with Being Patient, he encouraged people living with dementia and caregivers to seek their shared passions amid all the adversities that come alongside a diagnosis: "The disease is a challenge enough, but if you look outside of it, there's going to be many, many good years that you two can do things together," Copeland-Parker said. "As opposed to it being a death sentence, it's a life lesson." 
Read on: Being Patient spoke with Copeland-Parker about traveling, living life boldly and what's in store ahead for the globetrotting couple. 
__________________
Patti Davi
s, daughter of former U.S. President Ronald Reagan, held onto the faith that her father's soul would remain unscathed by Alzheimer's. With the grief of seeing Reagan's decline, this faith helped Davis see the essence of her late father. In the book Floating in the Deep End: How Caregivers Can See Beyond Alzheimer's (Sept. 2021), Davis offers guidance for people impacted by dementia, weaving in anecdotes from her family's experience and from Beyond Alzheimer's, a support group that she established for dementia caregivers. 
Ultimately, she said her father' Alzheimer's diagnosis prompted her to rise above a dark chapter of her own personal life, giving her the chance to do right by her father and to be present for him: "It was bigger than my despair," she told Being Patient of Reagan's diagnosis. "It was bigger than everything that I was going through and I wanted to show up for him."
Read on: Being Patient spoke with Davis about the memories she shared with her father and the challenges her family faced during Reagan's decade-long journey with Alzheimer's.
__________________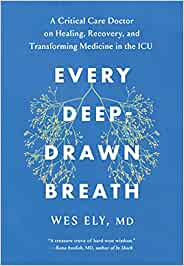 E. Wesley Ely realized that critical care had lost its way. While medical technology could improve the chances of survival of patients in the intensive care unit (ICU), many of these patients actually end up experiencing cognitive, psychological and physical impairment after being sedated and immobilized for long periods of time in the ICU. In Every Deep-Drawn Breath: A Critical Care Doctor on Healing, Recovery, and Transforming Medicine in the ICU (Sept. 2021), Ely chronicles his own reckoning of the ways medical practices in the ICU could end up harming patients, the personal stories of ICU survivors and their families, and his mission to reclaim the humanity in critical care. 
Ely, professor of medicine and critical care at Vanderbilt University Medical Center, told Being Patient, that the title of the book "really gets at the glory of the human condition, the interactions that we have with each other [in] deep, true communication. Every deep-drawn breath is sweet and the air in the room is sweet when we have real, unhindered communication with another person."
Read on: Being Patient spoke with Ely about the lives of his own patients' after they survived a stay at the ICU, their symptoms of dementia, and mental health and physical issues, and strategies to protect and rehabilitate ICU patients' brains and bodies.
__________________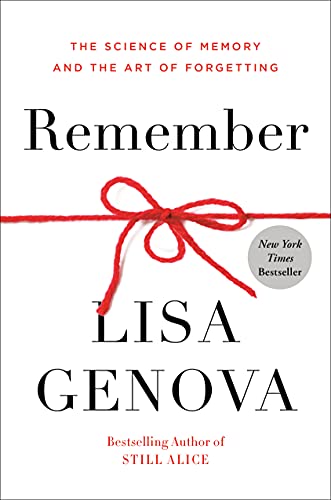 Lisa Genova hopes that we can all form a better relationship with our memory, and understand both the power and vulnerability of the brain. Even though aging adults may worry that memory lapses could be a sign of dementia, Genova reminds us that forgetting doesn't necessarily reflect the beginnings of a disease like Alzheimer's. In the book Remember: The Science of Memory and the Art of Forgetting (March, 2021), Genova wrote that our memories are imperfect, and the brain isn't designed to remember every minute detail of daily life. 
Instead of viewing forgetfulness as our "moral adversary," she said we should have informed expectations about our memory, and realize that there are differences between normal forgetting and cognitive impairment in Alzheimer's. 
"A lot of us don't understand memory and that it's actually quite fallible," Genova, who is also the author of Still Alice (2009), told Being Patient. "It's not designed to be perfect and remember everything."
Read on: Being Patient spoke with Genova the strengths and limitations of our cognitive function, and what we can do to enhance our memory.
__________________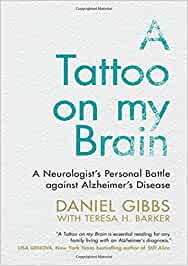 Daniel Gibbs, a retired neurologist, devoted much of his career seeing patients with neurological disorders. Roughly nine years ago, he began experiencing memory issues himself, and eventually, he was diagnosed with early-stage Alzheimer's. In the book A Tattoo on My Brain: A Neurologist's Personal Battle Against Alzheimer's Disease (May 2021), Gibbs offers a first-hand account of his early Alzheimer's symptoms, his experience  participating in research, and why he believes that an early diagnosis is critical. 
In many ways, Gibbs looks toward the future with optimism. By living a brain healthy lifestyle, like staying physically active and eating a healthy diet, he finds hope in the opportunity to slow Alzheimer's progression early on in his disease. 
"I don't think there will be a cure in my lifetime, but [I] slow down the progression so that I have the maximum number of cognitively good years ahead," he told Being Patient. "Hopefully, I will die of something else before I reach the end-stage of Alzheimer's disease. I mean that literally. I don't mean to be grim about it. I'm hopeful about that."
Read on: In part I of Being Patient's LiveTalk, Gibbs discussed his experience as a former clinical trial participant of Aduhelm and his take on the approval of the new Alzheimer's drug. For part II of the LiveTalk, Gibbs shared his advice on living well with Alzheimer's. 
__________________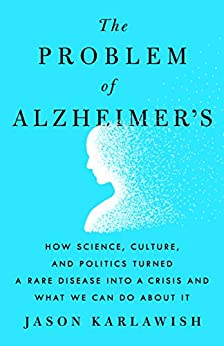 Jason Karlawish finds hope, but also lost opportunities when he looks back at the history of Alzheimer's. In the book The Problem of Alzheimer's: How Science, Culture, and Politics Turned a Rare Disease into a Crisis and What We Can Do About It (Feb. 2021), Karlawish, codirector of the Penn Memory Center, shares stories of the medical breakthroughs in the field of Alzheimer's and the failures of the society to take greater action in tackling the Alzheimer's crisis. Ultimately, he writes that Alzheimer's is a "humanitarian problem," one that cannot be addressed only with medical science.
"The complexity of Alzheimer's disease (really diseases), the lack of a simple and single "druggable target" so that we might tame it like influenza, measles or polio, the threat of chronic escalating disabilities, the staggering costs of time and task, the stigmas that corrupt dignity and identity together converge on a call to action," Karlawish wrote in his book. "Nations must tackle the Alzheimer's problem as a humanitarian problem. They must muster the full range of medical, scientific, social, civic, and cultural resources. Good data from well-done studies are showing us the way."
Read on: Being Patient spoke with Karlawish the implications of detecting and diagnosing Alzheimer's early, and whether there will ultimately be a cure for the disease.
__________________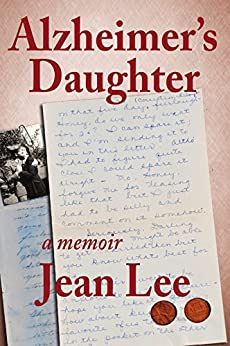 Jean Lee's parents' lived out their love story from the beginning to end. In her book Alzheimer's Daughter (2015), Lee recounts the bond between her parents long before their dual diagnosis of Alzheimer's; and she offers a deeply personal account into their journey with the disease, from its early symptoms and their move into long-term care to the end-of-life. Through writing, Lee honors her parents' spirit, one of faith and gratitude.
"I was so lucky that they were happy people who raised me with faith and taught me to actively count my blessings, because that's who they were at their core," Lee told Being Patient. "The core does not change."
Read on: Being Patient spoke with Lee about her memories of her parents, their parallel decline in the face of Alzheimer's, and how she reconciled the guilt of writing such an intimate account of their dual diagnosis in her book.
__________________
11. Daniel C. Potts: The Broken Jar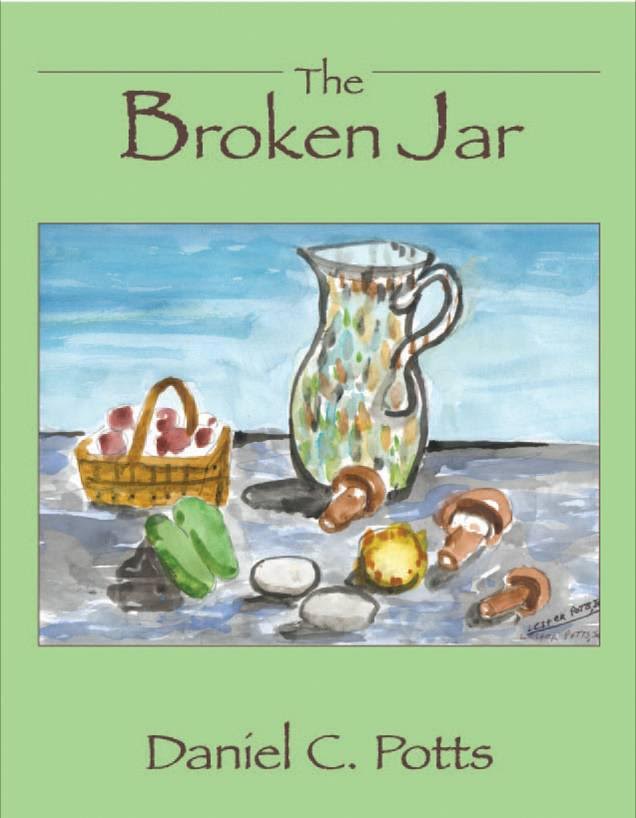 Daniel C. Potts' father discovered his artistic talents at Caring Days Day Care facility in Tuscaloosa, Alabama, after his Alzheimer's diagnosis at the age of 72: Watercolor painting became an avenue for him to express his life experiences. In The Broken Jar (2006 [available in limited supply and can be ordered via emailing or calling Caring Days]), Potts, a neurologist at the Tuscaloosa Veterans Affairs Medical Center, features both his father's watercolor artwork and his own poetry.
In an interview with Being Patient, Potts said one of the main lessons he learned from his father's diagnosis is "to look inside the person and not just see loss — deficits, disability that I've been trained to see as a neurologist — but to see what remains and to build on strengths that people have."
Read on: Being Patient spoke with Potts about how his father's journey with Alzheimer's has taught him to better help his patients build on their strengths, to better support their caregivers, and to take care of himself as a physician.
__________________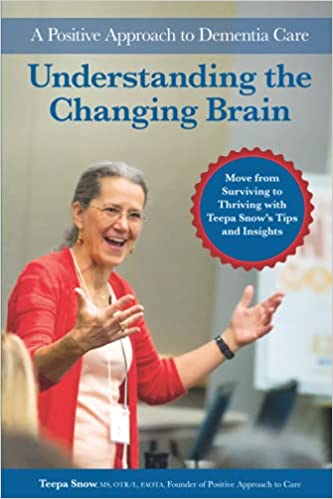 Teepa Snow believes that leveraging the strengths of a person with dementia is key to adapting to living life with the illness. In Understanding the Changing Brain: A Positive Approach to Dementia Care (Sept. 2021), Snow, an occupational therapist and dementia care educator, offers her wisdom on how people can best respond to the changes of dementia, interactions that can help foster a supportive environment.
Dementia progresses slowly for most people, and there are times of joy and sadness, celebration and grief. So, Snow encouraged people to focus on the present, and to live their lives to the fullest extent possible with the abilities they have today.
"There is no permanence," she told Being Patient. "There are moments of brilliance, and there are times of loss."
Read on: Being Patient spoke with Snow about strategies for people to adjust to the day-to-day challenges of living with dementia.
__________________
Cindy W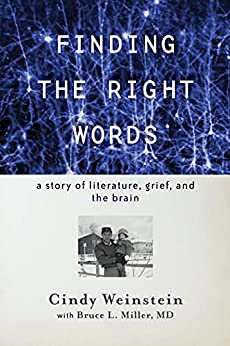 einstein was becoming an expert in language and literature while studying English as a graduate student in the 1980s. At the same time, her father was losing his ability to read, speak and write to Alzheimer's. In Finding the Right Words: A Story of Literature, Grief and the Brain (Sept. 2021), Weinstein notes that the irony was inescapable. But in authoring the book with co-writer Bruce Miller about her family's journey, exploring the science behind dementia, she found she was able to reclaim good memories of her father decades later.
"Writing the book allowed me to grieve for my father in a way that I had been unable to for a very long time," Weinstein told Being Patient. She added, "It was only by working out the grief, remembering the extremely painful things and looking at them very straightforwardly that I was able to get to the happy stuff that happened before my father got sick."
Read on: Being Patient spoke with Weinstein and Miller about the Alzheimer's diagnosis of Weinstein's father, and how writing, literature and neurology can enrich our understanding of dementia.
__________________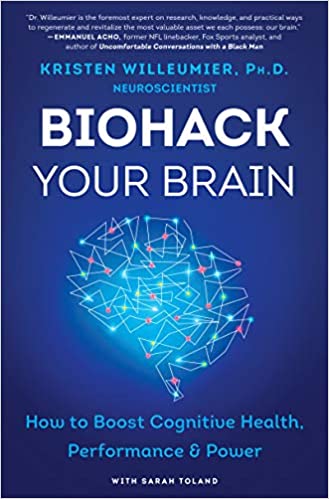 Kristen Willeumier reminds us that our brain is an extraordinary organ that requires routine maintenance. In the book Biohack Your Brain: How to Boost Cognitive Health, Performance & Power (2020), she offers a guide on the lifestyle changes essential for preserving brain health, including diet, exercise and stress management.
In an interview with Being Patient, Willeumier, a neuroscientist, discussed strategies to combat the long-term cognitive symptoms that COVID-19 patients can experience. A lesson she hopes we can all learn from the pandemic is the importance of protecting our brain and body through simple habits.
"We've got people who are struggling with COVID," Willeumier said, "the long haulers who have various psychiatric and neurocognitive issues, and it's getting people wanting to investigate more [about] 'what do I do? How do I take care of my brain health? Because I don't want to live like this.'"
Read on: Being Patient spoke with Willeumier about how COVID-19 can lead to neurological symptoms and what people can do today to recover from the brain fog related to COVID-19.
Update: The books authored by Nicole Bell and Kristen Willeumier have been added to the reading list.