By Nicholas Chan | August 8th, 2023
Here's a primer on all the approved Alzheimer's drugs designed to treat symptoms or slow disease progression — and a peek ahead at some of those in the pipeline.
Alzheimer's disease affects one in every three people over the age of 85, and the scale of the epidemic is only worsening. While there are only a limited number of medications approved by the Food and Drug Administration to treat Alzheimer's and its symptoms, more than 150 clinical trials for investigational Alzheimer's therapies are underway as of 2021. 
To date, none of the Alzheimer's drugs available on the market can halt the progression of Alzheimer's or cure it, but some can be helpful in treating its symptoms, improving quality of life for a person living with the disease. 
Here's a look at the the medications currently out there, and a peek ahead at a few of those that are currently in human trials.
FDA-approved drugs for treating Alzheimer's symptoms
Aricept, Excelon and Razadyne
Cholinesterase inhibitors, also known as acetylcholinesterase inhibitors, are a class of Alzheimer's drugs for treating patients' cognitive and functional impairment. These drugs do not halt or reverse the course of Alzheimer's, but for some patients, they can relieve symptoms of the disease, improving people's ability to manage day-to-day tasks like dressing and doing household chores. 
Cholinesterase inhibitors prevent the enzyme acetylcholinesterase from breaking down certain chemical messengers. These neurotransmitters, known as acetylcholine, send signals from one neuron to another. But in Alzheimer's, cells that produce acetylcholine become degraded, releasing less of these neurotransmitters. 
By blocking acetylcholinesterase's activity, cholinesterase inhibitors help sustain acetylcholine levels. These drugs do not stop the destruction of neurons, but they do improve the chances for these cells to pass information via acetylcholine. 
As Dr. Andrew Budson, chief of cognitive and behavioral neurology at the Veterans Affairs Boston Healthcare System and professor of neurology at Boston University, told Being Patient: "One way to think about Alzheimer's disease is as a clock that is ticking down until you run out of time, and your memory and other cognitive functions are gone. By blocking the metabolism of acetylcholine, the cholinesterase inhibitors drugs galantamine, donepezil, and rivastigmine can boost up memory equivalent to turning back the clock on Alzheimer's disease by six to 12 months." 
He added, "These drugs do not, however, change the rate at which the clock is ticking down." 
Common side effects of cholinesterase inhibitors include nausea, diarrhea, vomiting and decreased appetite. 
Namenda
Namenda (memantine), available in tablets and oral solution, is FDA-approved for treating the symptoms of moderate to severe Alzheimer's dementia. Just like cholinesterase inhibitors, Namenda's effects vary from one patient to another, but it can improve cognition and function in daily activities for some people. 
Memantine belongs to a class of medications known as NMDA (N-methyl-D-aspartate) receptor antagonists. Chemical messengers, known as glutamate, bind onto NMDA receptors to pass signals between neurons. In Alzheimer's, however, neurons produce too much glutamate, overactiving NMDA receptors, allowing excessive amounts of calcium to travel into neurons. This leads to toxic effects in the brain, damaging neurons and eventually neuronal death. 
By blocking NMDA receptors, memantine prevents overstimulation from abnormal glutamate levels, but memantine does not halt or reverse the neurodegenerative process seen in patients with Alzheimer's. 
Common side effects of memantine include headache, dizziness, nausea and diarrhea. 
Namzaric
Namzaric (donepezil and memantine), an FDA-approved combination treatment for symptoms of moderate to severe Alzheimer's dementia, is available in oral capsules. 
Rexulti
In 2023, Rexulti (brexpiprazole), an antipsychotic medication for depression and schizophrenia, was approved as a treatment for agitation and aggression symptoms in people with Alzheimer's. 
As many as half of individuals who develop Alzhreimer's also experience agitation which can lead to pacing, restlessness, as well as verbal and physical agression. These symptoms can affect the mental health of caregivers as well. 
In clinical trials, Rexulti was shown to be effective in treating agitation but it also increased mortality from 0.3 percent to 0.9 percent. The FDA's briefing document said that this was consistent with the known risks of using antipsychotic drugs in older patients.
Banner Sun Health Research Institute Director Dr. Pierre Tariot wrote positively of the trial results. "We had efficacy without all the toxicity that has plagued the other drugs we've been studying for agitation," he wrote on Alzforum. "This sounds like a major advance." 
Belsomra
Belsomra (suvorexant), available in tablets, is the first FDA-approved orexin receptor antagonist for treating insomnia in the general population. The agency later updated the drug's prescribing information to include the treatment of insomnia in patients with mild to moderate Alzheimer's dementia. 
Belsomra blocks orexin receptors to help with sleep, preventing the chemical messenger orexin, which promotes wakefulness, from binding onto these receptors. 
But Budson noted that whenever possible, non-pharmacological approaches for treating sleep disruptions are preferred, with the exception of two sleeping medications: melatonin and acetaminophen (Tylenol, but not Tylenol PM). 
Nevertheless, he said in a Being Patient LiveTalk that "there are individuals who have hit a certain stage of dementia and their normal sleep pattern is completely fragmented. Some of these people do need a dose of [Belsomra] or Ambien or trazodone or something like that." 
In Belsomra's case, side effects include drowsiness, impaired motor coordination including impaired driving, worsening depression, suicidal thoughts, and sleep-related behaviors like sleep-walking and sleep-driving. 
Antipsychotics
Antipsychotics, while often prescribed to treat certain behavioral symptoms of dementia, are mostly being prescribed off-label. Rexulti is currently the only antipsychotic drug that has been trialed and FDA-approved for efficacy and safety in people living with Alzheimer's disease. In fact, some of these drugs can exacerbate some dementia symptoms and lead to other negative outcomes, including higher rates of hospitalization in people with dementia.
Disease-modifying drugs FDA approved for early-stage Alzheimer's disease
Aduhelm
Aduhelm (aducanumab) is the first disease-modifying therapy approved by the FDA for treating early-stage Alzheimer's. Unlike memantine, belsomra and cholinesterase inhibitors, the drug targets the disease's underlying biology: beta-amyloid plaques, which are aggregates of beta-amyloid proteins found in the brains of people with Alzheimer's. 
Administered via monthly infusions, Aduhelm is designed to binds onto beta-amyloid plaques, stimulating the immune system to recruit brain cells that break up and flush these plaques out of the brain. 
While it is clear that Aduhelm is effective at removing beta-amyloid plaques, its ability to slow patients' cognitive and functional decline remains ambiguous. In two Phase 3 clinical trials involving patients with mild cognitive impairment due to Alzheimer's or mild Alzheimer's dementia, one trial suggested that it may slow the progression of the disease, but the other study showed otherwise. 
"The medication (Aduhelm) efficacy is in question because of the discrepancy in the clinical trial results," Dr. Zaldy Tan, medical director of the Jona Goldrich Center for Alzheimer's and Memory Disorders, told Being Patient. "If it is in fact effective, the magnitude of change will likely be modest." 
A takeaway from the clinical trials "is that clearing amyloid does not cure the disease, so this is by no means a cure," Tan said of Aduhelm. "The disease still [progresses]. But the question now is whether it decreases that rate of progression to a significant degree, and whether the magnitude of change justifies the known risks." 
Aduhelm's main side effects reported in clinical trials are known as amyloid-related imaging abnormalities (ARIAs). ARIAs include brain microbleeds and brain swelling. The majority of ARIAs were asymptomatic, and for patients who did experience symptoms, common ones include confusion, dizziness, nausea and visual disturbances. Magnetic resonance imaging (MRI) is used to detect these side effects. 
Since Aduhelm's FDA approval in 2021, the drug has been caught up in controversy over the high price tag and ambiguous efficacy data, leading to resignations at the FDA and at the drugmaking company Biogen. At the time of this writing, Medicare doesn't cover Aduhelm, and some healthcare providers refuse to prescribe it.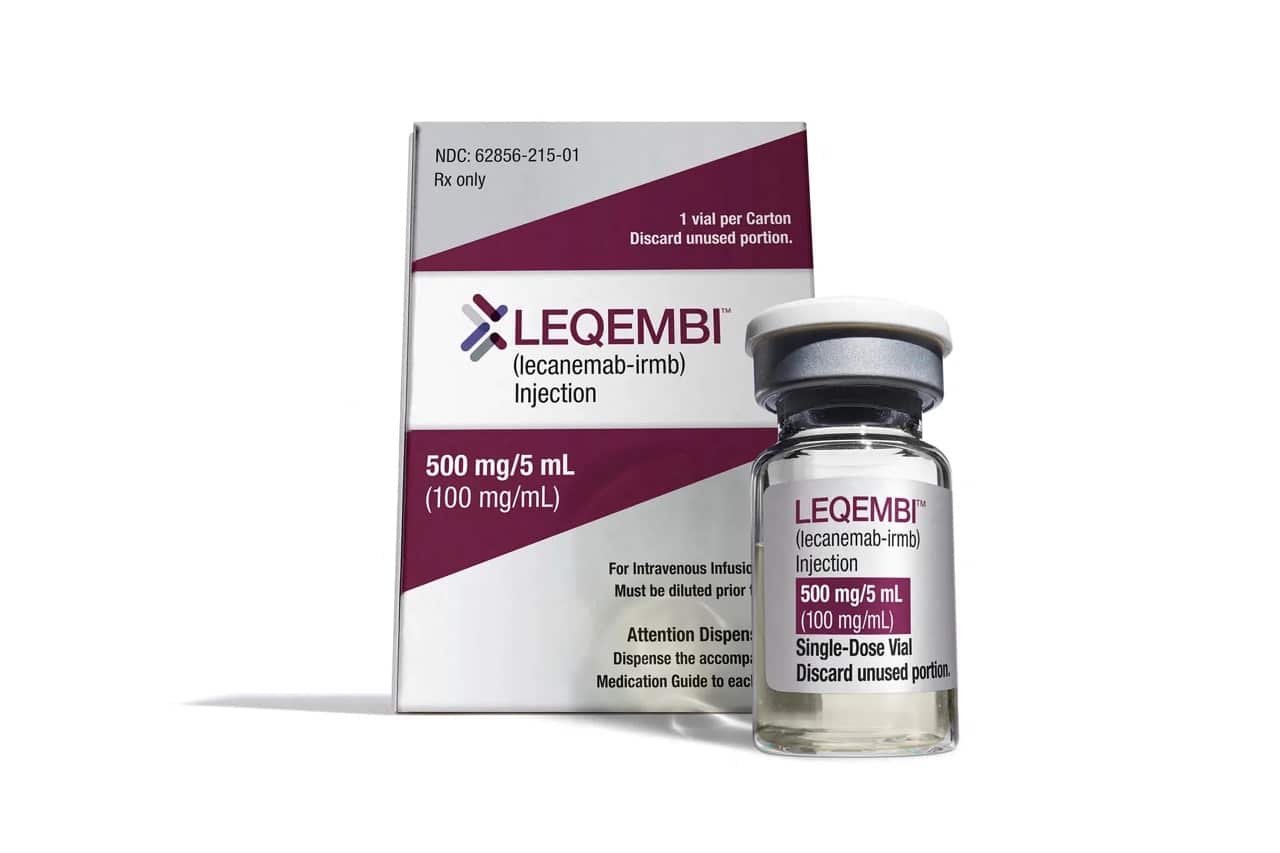 Leqembi
While Aduhelm (aducanumab) secured traditional approval first, its follow-up, Leqembi (lecanemab), became the first disease-modifying drug to be fully approved by the FDA for treating mild cognitive impairment and early-stage Alzheimer's, in July of 2023. Like Aduhelm, Leqembi targets the disease's underlying biology: beta-amyloid plaques. 
The drug is administered every two weeks via intravenous infusions. Leqembi sticks to beta-amyloid plaques, stimulating the immune system to destroy and clear the plaques from the brain. 
In its Phase 3 clinical trial, Leqembi was effective in clearing out beta-amyloid plaques and also slowed cognitive decline by a small amount. These results were also sufficient for the CMS to grant Medicare coverage for the drug. However, whether these effects are meaningful for patients is still being debated, especially when weighing the potential risks and side effects of the drug — brain bleeds and brain swelling. The side effects occur more often in patients carrying the APOE4 gene.
So, when it comes to Leqembi's safety and side effects, patients and caregivers should speak with a neurologist about Leqembi and whether it's a good fit. The drugmakers recommend that, before beginning treatment, patients undergo testing for the APOE4 gene variant — also known as the Alzheimer's gene — which can influence a person's risk of serious side effects.
"It is difficult to know if this will be noticeable for patients and their families," Donald Weaver, a clinician and senior scientist at the Krembil Research Institute told Being Patient. He was uncertain whether the results would be clinically significant but added that "some families would argue that even a day or two would be progress."  
Rob Howard, professor of old age psychiatry at University College London Institute of Mental Health is among them. "This is below what is considered the minimum clinically important difference of 1.0 point," Howard wrote to Being Patient. "So, it isn't clinically significant or noticeable in an individual patient."
Investigational Alzheimer's drugs in clinical trials
Some investigational drugs are designed to improve cognitive performance, and others are under development treating behavioral and psychological symptoms. But most are being tested to target the underlying biology of Alzheimer's, specifically in people in early stages of the disease.
In this class of monoclonal antibody drugs designed to target the underlying biology of Alzheimer's, several operate similarly to Leqembi and Aduhelm — they are focused on clearing amyloid plaque from the brain. Another such drug, donanemab, is currently in phase 3 clinical trials. The would-be-first disease-modifying Alzheimer's treatment in pill form, which takes a slightly different approach, is also in phase 3 trials.
While the amyloid hypothesis, the idea that Alzheimer's is largely caused by the accumulation of beta-amyloid, has long dominated the development of disease-modification drugs, many therapies in the pipeline have attempted the anti-amyloid approach and failed.
Thus, even before the FDA's controversial approval of Aduhelm, scientists were already starting to expand their horizons. Investigational therapies aimed at modifying the course of Alzheimer's are targeting an increasingly broad array of biological mechanisms, from tau and inflammation, to viruses, to the gut microbiome.
With the hopes of accelerating the search for effective therapies, scientists are also repurposing drugs as potential Alzheimer's treatments, such as anti-diabetic and cardiovascular drugs. Instead of a "silver bullet," experts agree that a combination of these innovations will be the way to slow, and maybe one day stop, the Alzheimer's epidemic. 
Updated 4 August 2023, 3:37 p.m.: This article was updated to include new information about recent Alzheimer's drug progress. Additional reporting by Simon Spichak.